The Big Dig
Saturday 21 April, 2018
"The spirit of the Big Dig is what community gardening is all about"
Every spring, hundreds of volunteers pull on their wellies and head outside to help community gardens get ready for the new growing season. We look forward to working with groups across London in 2017 to host new visitors and volunteers discover the joys of growing food in the city.
Camilla Barboza, a volunteer with The Castle Garden in Hackney shared how community gardening has changed her relationship with London "Remembering that such beautiful, tranquil spaces exist so close by helps when you are stuck on a crowded train or tired after a long day"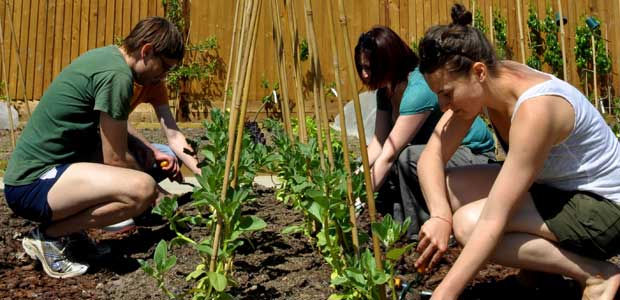 How to join The Big Dig
School and community gardens in London are invited to host a Big Dig day on Saturday 21 April - and it's all free!
To take part, simply log into the Capital Growth member's area, click on the 'Big Dig' box and answer a few short questions about what's happening on the day. This information will then be processed and appear on a map of London gardens for promotion to volunteers. We'll also post you a pack of publicity materials and other supplies to help you spread the word in your local area.
Not a member of Capital Growth?
No problem! Membership is free and the form takes about 5 minutes. Anyone in London growing food in at least one square metre or more is eligible to join. Read more about the network, benefits of membership and how to apply.
Volunteer in a local garden
Use our interactive map to find a garden to volunteer with on 21 April for the Big Dig. Activities, hours and locations vary so that you can find the right garden. No gardening experience is necessary and all ages are welcome!
The Big Dig across the UK
The Big Dig started as an event run by Capital Growth in 2012 to engage volunteers in local food growing projects. Funding was also received to roll this out across the UK , recruiting 7,500 new volunteers to take part in community gardening. These local networks continue to recruit and engage volunteers locally.
In 2017, 48 gardens in London took part, welcoming over 600 volunteers to help build trellises, plant seedlings, add compost and enjoy a well deserved cuppa in the company of friends and neighbours.