The Big Dig
Saturday 22 April, 2017
"The spirit of the Big Dig is what community gardening is all about"
Every spring, hundreds of volunteers pull on their wellies and head outside to help community gardens get ready for the new growing season. We look forward to working with groups across London in 2017 to host new visitors and volunteers discover the joys of growing food in the city.
Register your garden to take part in The Big Dig in the Capital Growth member's area.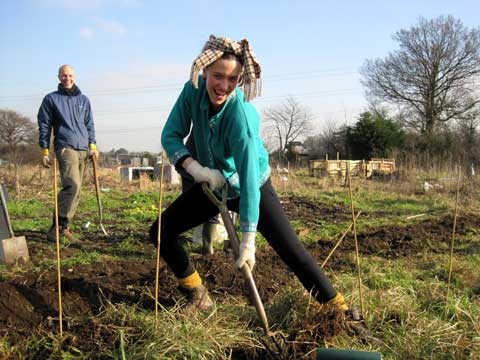 In 2016, over 40 gardens took part, welcoming over 750 volunteers throughout London to help shovel compost, build trellises, plant seedlings and enjoy a hard day's work in the company of friends and neighbours.
The Big Dig across the UK
The Big Dig started as an event run by Capital Growth in 2012 to engage volunteers in their local food-growing space. It was initially funded as a nationwide project, managed by Sustain, recruiting 7,500 new volunteers to take part in community gardening. The network continues to work with cities in the UK.
Find out more on www.bigdig.org.uk