Roots to Work Event
9:30am - 4:30pm
Thursday 23 November 2017
Roots and Shoots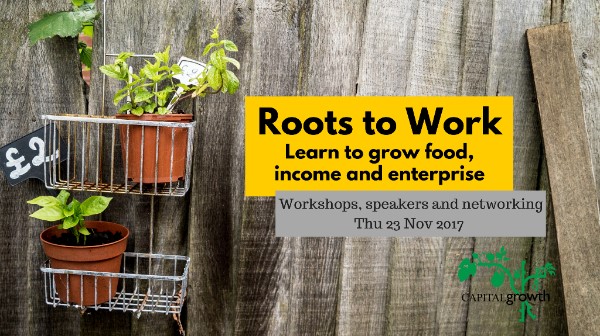 What's on
Following the success of the Roots to Work event in 2015 and 2016 we are back for 2017 with an exciting programme in development - so watch this space and book your place!
A day of workshops, speakers and networking opportunities for people interested in kick-starting or developing a food-growing enterprise or career. Whether you're running a school garden and want to learn more about selling to parents and the community, or you've just finished a horticulture training course and are ready to find paid work, there is something for you to dig in with at Roots to Work.
Workshops will cover income generation, freelancing and more.
Who's this for?
This event is open to Capital Growth members old and new, growing enterprise trainees and appentices and everyone who wants to work in food growing and related growing enterprises.
Tickets
Tickets are available on Eventbrite: £20 for Capital Growth members and London Food Link supporters; £30 for the general public. We also have a limited number of bursaries available. If you have any questions please contact chris.speirs@sustainweb.org.