Foraging for Medicinal Plants
Discover medicinal plants you can forage and use at home.
22 Jul 2020 18:0000:00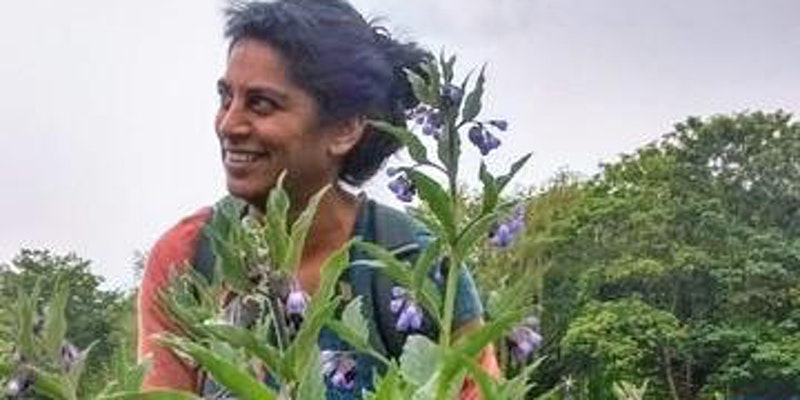 Photo: Rasheeqa Ahmad
Join medical herbalist Rasheeqa for a high summer ramble in a wild spot of north London to meet the healing plants of this time.
The power of the aromatics of the season, as the flowers are being pollinated and fruits are ripening, brings us the seasonal energy of early harvest time, and Rasheeqa will share what the abundant medicinal herbs are in the city just now, their history and folklore, knowledge about their therapeutic qualities, and how you can harvest and prepare them with care to access these qualities and make your own herbal medicines at home to support resilience and healthcare.
Trainer: Rasheeqa Ahmad
I am a community herbalist and project maker, currently involved in developing the Community Apothecary vision of collaborative herbal healthcare in Waltham Forest, as well as part of the Mobile Apothecary in London and the UK Radical Herbalism network.
I trained in Herbal Medicine with the aim of helping people (including myself!) to enjoy positivity and intelligent health in collaboration with our living universe. I'm excited by the possibilities of plant medicine, both those understood since ancient times and those emerging now. I am committed to continue learning more about this power and to sharing it with with others as best as I can. I believe that understanding our connections and symbiosis with the other living beings of the earth can yield great potential for our future development and success – all of us together.
My practice encompasses consultations and treatment, plant-gathering and medicine-making, community activity including knowledge-sharing, practical workshops and herb walks, and vital connections with people and organisations working in peace and productivity with the earth and universe.
Instagram - @hedgeherbs @communityapothecary.wf @mobileapothecary
http://radicalherbalism.org.uk
Once you register, you will receive a link and a password to our Zoom meeting session.
PLEASE NOTE THAT THIS EVENT MAY BE RECORDED
If you cannot afford the ticket but would still like to attend, please contact capitalgrowth@sustainweb.org to see if we can help.
Share
Get updates
Support our work
Your donation will help communities grow more food in gardens across London.
Capital Growth is a project of Sustain: the alliance for better food and farming.