July Spotlight Garden Open Evening
Come visit our July Spotlight Garden for a magical open evening in GoGrowWithLove's secret Love Garden N17 on Wednesday 20 July, 4-7pm.
20 Jul 2022 16:0019:00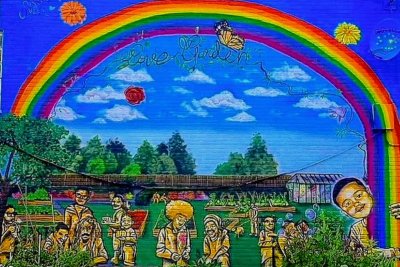 The beautiful Love Garden N17 mural. Copyright: GoGrowWithLove C.I.C.
GoGrowWithLove invites you to join us for a magical open evening in their Love Garden N17 which was set up during the pandemic in an unused communal garden space. The space was transformed into a safe, thriving and diverse community garden in Tottenham N17 for local residents to enjoy being in nature and growing food to share with the local community.
GoGrowWithLove is a C.I.C. (Community Interest Company), not-for-profit and led by women. For the come-unity by come-unity. It began from a journey of a mum who wanted to be a role model to her son.
​If you'd like to and are able to spend the full day outdoors, you're welcome to join them from 11am-1pm for their regular garden day and lend a hand with gardening activities. Please let them know you'd like to join earlier at the garden by emailing info@go-grow.org.uk.
​Below is the agenda for our July Spotlight Garden open evening, lead by Soil SiStar and garden creator Sandra:
Tea Tasting in the secret Love Garden
Welcome to a magical evening in the secret Love Garden
4pm - 4.15pm | Opening - signing-in/ greet and meet.
4.15 - 4.45pm | Walk around and meet the volunteers- There will be stalls showcasing natural products and produce + Jerkman.
4.45pm - 5pm | Refreshments and loving nature nibbles.
5pm-6.30pm | Nature Crafts activities & Love garden Tea Tasting + networking.
6.30pm-7pm | Closing - Thank you & blessings

Please note that registration is necessary given the space limitations of the site.
Sign up early to claim your free ticket.
We look forward to seeing you there!
Share
Get updates
Support our work
Your donation will help communities grow more food in gardens across London.
Capital Growth is a project of Sustain: the alliance for better food and farming.