Growing For Change Sessions: Watering strategies for urban gardens
In this training series, inspired by Capital Growth's Growing For Change campaign we will explore watering strategies for resilient growing spaces with Susannah Hall at Cecil Sharp House on Sunday 22 October, from 2-4.30pm.
22 Oct 2023 14:0016:30
2 Regent's Park Rd, London NW1 7AY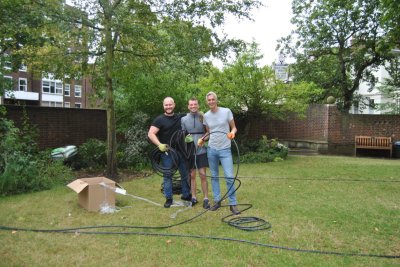 Creating irrigation systems for urban gardens. Credit: Susannah Hall
Water is key to plant health and yield.
On Sunday 22 October, from 2-4.30pm, with Susannah Hall at Cecil Sharp House, we will explore planting methods to ensure resilient, healthy plants and watering strategies that maximise the water that reaches plant roots as well as reducing the amount of water used. Join us!
We will look at ways to catch and store rainwater and demonstrate how to calculate whether there will be sufficient rainfall to supply your garden through different months of the year.
The workshop will include a practical activity to create simple planters with a water reservoir to ensure an ongoing water supply for plants.
Cecil Sharp House, the grade II listed home of the English Folk Dance and Song Society, has an award-winning, permaculture garden that is a showcase project for Permablitz London. As a permaculture Learning and Demonstration site (LAND) the garden contains examples of irrigation systems, mulching, wicking reservoirs and water collection that support a diverse range of plants.
Click here for details of accessibility at the site.
Trainer bio
Susannah Hall is a designer, trainer and facilitator for Permablitz London. She is the gardener at Cecil Sharp House and co-ordinator at the Josiah Braithwaite Community Garden. She has designed a forest garden for Forest Farm Peace Garden and co-designed (with Kayode Olafimihan) the food forest at Northwick Park Community Garden and the permaculture community gardens at Battersea Arts Centre and at London's Community Kitchen.
Growing For Change
Join our Growing For Change sessions this autumn. Capital Growth's, Growing For Change campaign supports London's urban food gardens in building community, climate and nature resilience. These sessions highlight the gardeners and growing spaces who do great work on key Growing For Change themes such as, biodiversity, soil health, efficient water use, gardening planning and protection.
To find out more download our handbook to support your urban growing space and join Capital Growth member spaces in making the Growing For Change Pledge. Not a member of Capital Growth? Join the network for free in minutes and make the most of our member perks (including 50% off all our training tickets!)
Share
Get updates
Support our work
Your donation will help communities grow more food in gardens across London.
Capital Growth is a project of Sustain: the alliance for better food and farming.