The Regent's Park Allotment Garden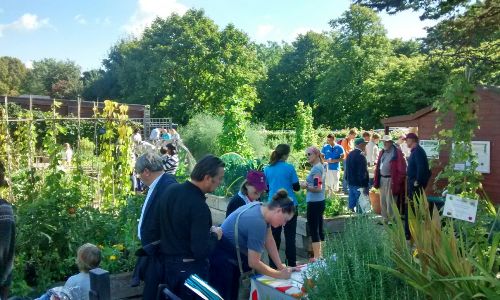 Capital Growth hosts many of its food growing trainings at the Allotment Garden in The Regent's Park. The site is run in partnership with The Royal Parks and Capel Manor College and is managed by our own Julie Riehl with a team of dedicated volunteers.
Twilight gardening volunteer sessions
For a breath of fresh air, a cup of tea and a chance to meet new people and get your hands dirty, join us for our summer twilight gardening volunteer sessions.
We meet every other Wednesday evening from 5:30-7:00pm to garden together. Activities involve seed sowing, transplanting, maintaining paths, weeding and a variety of other garden tasks. We have fresh tea on site and you'll learn about food growing along the way too.
Interested? We only have 15 spaces per session, so it's on a first come/ first served basis. Due to another event, the first session will take place on Tuesday 6 June, but then contine on every other Wednesday after that. To join please email Julie.
Visiting the garden
The garden is open from 8:30am-4:00pm every day, including weekends. Information signs are dotted around the garden explaining more about what we do and our growing techniques.
The garden is located at the corner of Chester Road and the Inner Circle in The Regent's Park. Click here for a map.
Private garden tour
Private tours of the garden are available to small groups and can be focused on growing techniques, composting, wormeries use, organic principles, etc. Interested? Email Julie for more information and to schedule a tour.
School trips
We offer a limited number of free curriculum-linked sessions in the garden throughout the year. Please note that there is no covered area, so we are at the mercy of the weather. Get in touch with Julie to find out more and book your a visit with your pupils.