Grow-your-own health and happiness at London's Big Dig Day on Saturday 27 April
Over 25 gardens across London, from Barnet to Sutton are opening their gates, lining up their spades and getting the kettle on to welcome new growers to take a look.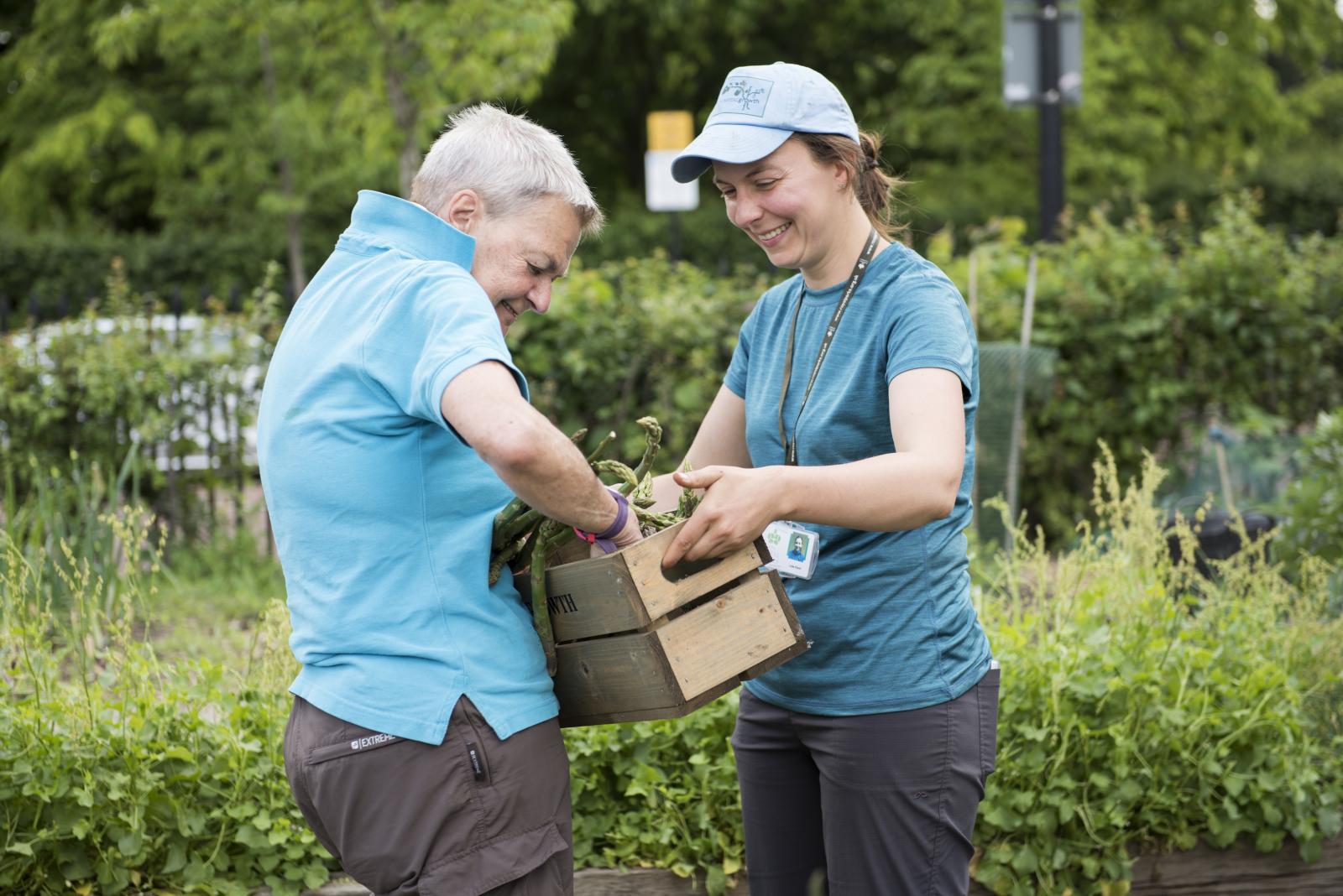 Regent's Park Allotment Garden by Caroline Teo
The saying goes that 'gardening adds years to your life and life to your years' and on Saturday 27th April you can drop in and meet people from your local community food garden.
The Big Dig Day is organised by Capital Growth network, one of the largest urban growing networks in the world and part of Sustain, the food and farming charity and was started in 2012 to get more people growing.
The day is organised by Sustain [2], the food and farming charity that set up the Big Dig Network, to help gardens get more people growing food. They also run the London based Capital Growth [3] network,. The gardens taking place range from large gardens such as The Regent's Park allotment garden in London, urban farms and market gardens, community projects and schools. It now also runs in other towns and cities throughout the UK.
"We have been working with all sorts of community gardens for the last 10 years and see first-hand how they bring together people of all ages and walks of life in nature, providing a sense of calm and ultimate feeling of wellbeing" explained Sarah Williams, from Sustain who launched the Big Dig Day in 2012. Since then thousands of people have joined in at their local garden to grow healthy food together, building friendships along the way.
The day, also being used to encourage people to eat more veg as part of the Veg Cities campaign [4] will be filled with family friendly activities, including planting and seed sowing, garden tours, family games and craft activities with the opportunity to create new wildlife-friendly edible gardens and to learn about permaculture and how to make plant feeds. The day is for all fitness levels, and for people looking to get regularly involved or those who may just want somewhere to relax.
Find gardens on the www.bigdig.org.uk including The Old 1 O'Clock Club, South London where the Trees for Cities 'Edible Playgrounds' team will be deed sowing, planting out vegetable plus family games and crafts to encourage and wildlife.
Camilla who started growing food at The Castle Garden, in North London one of the regular Big Dig Gardens said "I find growing food an incredibly rewarding experience. Gardening in itself is a therapeutic activity, and gardening in a community environment, amongst other people with similar interests or views, is even better."
There are thousands of community groups meeting to grow together every week, and whether you want to grow, sow or just sit to enjoy the peace, you can find your nearest garden in a few clicks.
Find a garden near you taking part in the Big Dig Day on our website. And if your local community garden has not signed up already, do let them know, all gardens are welcome to join #BigDig2019
For further information email sarah@sustainweb.org or call 0203 559 6777
Editorial Notes
A full list of gardens taking part is available at www.bigdig.org.uk or listed below:
The Big Dig Day is run by the food and farming charity, Sustain and is part of their Big Dig online platform that helps people to grow food together across the UK. Any community garden can register on the map for free and to date there are over 55 gardens on the map.
The Big Dig Day was first run in London as part of Sustain's Capital Growth network which has supported over 3000 member gardens since its launch in 2008. www.capitalgrowth.org
The Big Dig Day is also part of the Sustainable Food Cities' Veg Cities Campaign which is all about increasing the availability and consumption of vegetables in organisations ranging from schools and community groups to retailers and caterers.
The Big Dig, now in its eighth year, is now running in 12 areas in addition to London where the event was first launched in 2012, with the support of the following organisations: Aberdeen (Community Food Initiatives North East), Birmingham (Growing Birmingham), Bournemouth and Poole (Bournemouth and Poole Food Partnership), Cambridge (Cambridge Sustainable Food), Durham (Durham Community Action), Edinburgh (Edinburgh Community Food), Glasgow (Glasgow Community Food Network), Hull (Hull Food Partnership), Leeds (Zest), Luton (Luton Borough Council), Manchester (Sow the City) and Reading (Reading Food Growing Network) You can see gardens listed in each area by selecting the area and then click 'BIG DIG DAY' button www.bigdig.org.uk
Photos and interviews with volunteers and garden leaders are available on request.
London Gardens
| | | |
| --- | --- | --- |
| St John's church plot | Incredible Edible Barnet | Barnet |
| Whetstone Allotments Community Plot | Whetstone Stray Allotments Community Plot | Barnet |
| Punch and juicy's Root To Market | Punch and Juicy Liquid Foods | Brent |
| Children Growing Vegetables | Willesden Green Town Team | Brent |
| Cecil Sharp House Permaculture Garden | London Permaculture Network | Camden |
| Broomfield Community Orchard | Broomfield Community Orchard | Enfield |
| The Maryon Park Community Food Growing Garden | Maryon Park Community Garden | Greenwich |
| Christchurch School Community Garden | Christchurch CE Primary School | Greenwich |
| St Mary's Secret Garden | St Mary's Secret Garden | Hackney |
| Rainbow Grow @ HCVS | Rainbow Grow | Hackney |
| The Castle Climbing Centre | The Castle Climbing Centre | Hackney |
| Trees for Cities Garden | Trees for Cities | Lambeth |
| Ruskin Park Community Garden | Ruskin Park Community Garden | Lambeth |
| Oasis Children's Nature Garden | Oasis Play Nature Garden | Lambeth |
| The Springbank Rd Community Garden | Hither Green Community Association | Lewisham |
| Wild Cat Wilderness | Rushey Green Time Bank | Lewisham |
| John Evelyn Community Garden | Pepys Community Forum | Lewisham |
| Greenfingers | Trafalgar Infant School | Richmond upon Thames |
| Sutton Community Farm | Sutton Community Farm | Sutton |
| Families Go Wild | Spitalfields City Farm | Tower Hamlets |
| Cranbrook Community Food Garden | Cranbrook Community Food Garden | Tower Hamlets |
| Greenway Avenue Community Play Garden | Friends of Greenway Avenue Community Play Garden | Waltham Forest |
| Doddington & Rollo Community Roof Garden | Doddington & Rollo Community Roof Garden | Wandsworth |
| The Regent's Park Allotment Garden | Sustain | Westminster |
---
10/04/2019
Share
Get updates