New report demonstrates transformative power of urban food growing
A new report investigates the surge of community food growing initiatives in London and Reading during the Covid-19 crisis and celebrates stories of social and environmental resilience.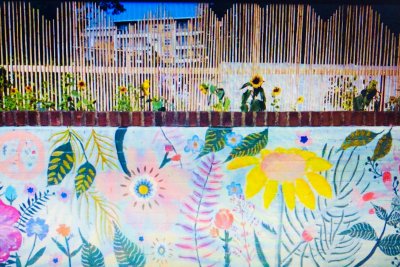 Garden of Earthly Delights, Hackney. Credit: Olga Filatova
Between 2021-2022 Capital Growth partnered with Cobra Collective, The Open University and Reading International Solidarity Centre on the Grassroots Visual Storytelling about Community Food-Growing to investigate the surge of urban community food growing initiatives during the Covid-19 crisis.
With an initial focus on London and Reading, the final report includes the findings of the project and demonstrates how community gardens adapted and responded to the challenges of the pandemic by playing a transformative role in people's lives and how they could respond to future disruptions.
With a background in Participatory Action Research and digital storytelling, the Cobra Collective team empowered food growing participants with digital visual storytelling skills to explore and promote their experiences of community food growing activities. The resulting participants' videos, together with three new videos on community food growing initiatives in Reading and London produced by the Cobra Collective, are showcased here.
The final report provides an engaging guide to the research methods and the processes of digital storytelling used with participants, an outline of the key themes explored by participants' stories and explores the wider policy and practical implications that emerged from these stories.
Read more about the project partners and approach taken here
---
19/12/2022
Share
Get updates