Help the London Food Link Jellied Eel final crowdfunding push
Our fundraising campaign ends at 10am this Thursday and we're close to our target but still need your help to reach it.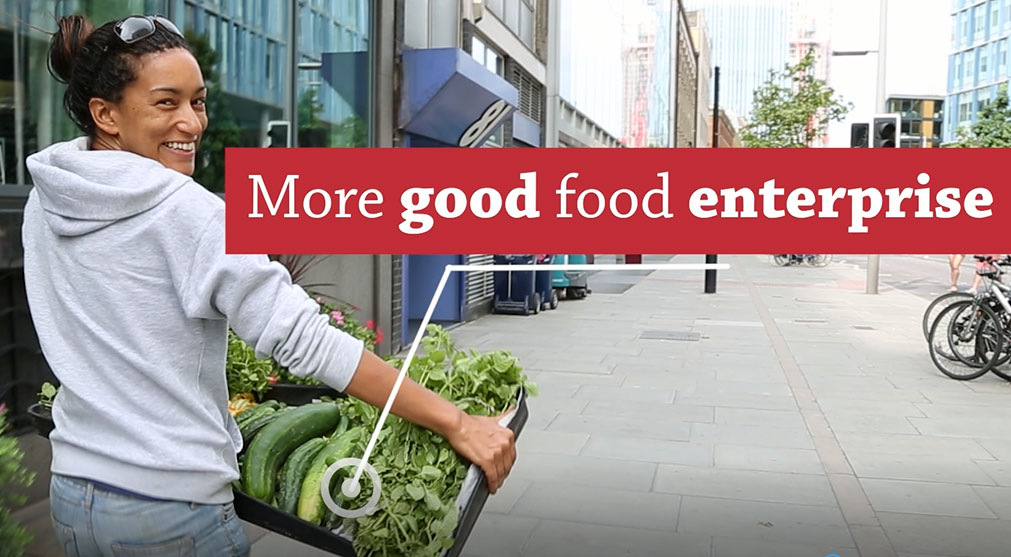 We'd love you to help in one or both of the following ways:
Pledge (or pledge again): There are some great rewards left
Promote on social media: Post suggestions below
Thanks in advance for your support!
Rewards
Barnes & Webb Thyme bee adoption package
Bea's Handmade Voucher for child's class
Bermondsey Street Bees Bee guide and seeds
Café Spice Namaste Voucher for KHAADRAAS CLUB dinner
Cookery School at Little Portland St Voucher for cooking course
East London Liquor Company Spirit of gin tour and tasting for two
Five Points Brewery Brewery tour
Forage London London foraging walk with John Rensten
GCDA Production kitchen, chef and ingredients for meal for 10
GCDA Four hours of food business branding and design
GCDA Four hours of specialist food business advice
Gosnells Mead Mead selection pack
Hackney Herbal Herbal lip balm
Hiver Beer Hiver Experience
Laura Hutton Social Media Mgmt Social media audit and four hours' training
Meantime Brewery tour
Meat School £75 voucher
Miles Willis Photography masterclass
Mora Ristorante £50 meal voucher
Sapori et Saperi Adventures Visit to bakery in Tuscany and overnight stay in mill
Slow Food UK Almanac and one year's membership
The Castle Climbing Centre Taster climbing session for two and goodies box from garden
...plus loads of cookbooks, London Food Link urban food gifts (including tea towels, maps and badges) and places at our invitation-only summer party at the Regent's Park allotment training garden.
You can find which reward corresponds to what level of pledge on our crowdfunding page.
Suggested tweets to send / schedule
.@LondonFoodLink @jelliedeelmag crowdfunding ends 10am THIS THURSDAY: Pledge now & collect a great reward http://www.crowdfunder.co.uk/the-jellied-eel
Have you pledged? Great food rewards in @LondonFoodLink @jelliedeelmag crowdfunding campaign. Ends 10am this Thurs: www.crowdfunder.co.uk/the-jellied-eel
Only 24 hours left to support @LondonFoodLink @jelliedeelmag crowdfunding campaign. Get involved! www.crowdfunder.co.uk/the-jellied-eel
Don't miss your chance to be part of @LondonFoodLink @jelliedeelmag's future. Today's your last chance to pledge: www.crowdfunder.co.uk/the-jellied-eel
The end is nigh: today is your LAST CHANCE to support @LondonFoodLink @jelliedeelmag crowdfunding campaign www.crowdfunder.co.uk/the-jellied-eel
The @LondonFoodLink @jelliedeelmag crowdfunding campaign ENDS IN 2 HOURS. Don't miss out, PLEDGE NOW! www.crowdfunder.co.uk/the-jellied-eel
Suggested Facebook posts
You only have 2 days [1 day / 24 hours / 2 hours] left to pledge in the London Food Link crowdfunding campaign. In return for funding the future of this great network, including The Jellied Eel magazine, a new digital platform and online good food map, they're offering some delicious rewards from microbrewery tours, to a baking minibreak in Tuscany. www.crowdfunder.co.uk/the-jellied-eel
Love good food? Don't miss out on the great rewards on offer in London Food Link's crowdfunding campaign. Pledge before 10am this Thursday to help them improve the way they support and celebrate the people who grow, make, cook, sell and save good food in the capital. You'll get to pick up a tasty treat in return. www.crowdfunder.co.uk/the-jellied-eel
---
11/07/2017
Share
Get updates