Community growers gather to share ideas on engaging volunteers
"Build it and they will come" expressed Les Moore, who spoke passionately at Capital Growth's Grow Well Feel Well event about the conception of their growing project as well as an age-friendly approach to volunteering.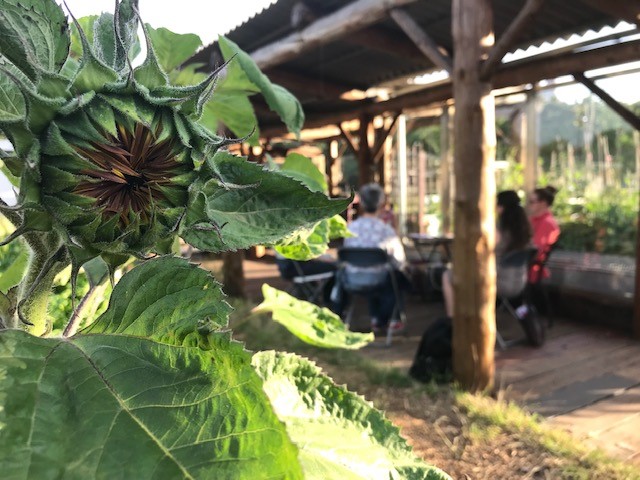 Grow Well, Feel Well 2019 - Spitalfields City Farm
Over 45 people joined the packed event for an energising summers evening in the beautiful surrounds of Spitalfields City Farm

After delicious food, provided by What the fattoush? the evening kicked off with a group energiser led by Sally Ramsden before talks on Social Prescribing from the GLA and Macmillan Cancer Support and discussions on age-friendly and inclusive volunteering project led by the Centre for Ageing Better.
There was also a dive into workshops on; Nature Connection, Social and Therapeutic Horticulture, How to get your growing career started and a Q&A with Sydenham Garden, Spitalfields City Farm, Whetstone Stray Allotments and Hackney Herbal.
Participants commented:
"It was so good, replicate this and i'll be in 7th heaven"
"The most valuable part of the event was being part of a community of like-minded people".

The event was part of the new Growing Connections project, which is capturing and sharing good practice in the Capital Growth network on age-friendly and inclusive volunteering. This includes working with flagship and buddy gardens, and creating a small community of practice where people can share experiences. The project is funded by the Department of Culture, Media and Sports as part of a project run by the Centre for Ageing Better. Read more here.
A huge thanks to all our participants and contributors.
---
11/07/2019
Share
Get updates