Celebrating pavement plants with PAN-UK
PAN-UK are helping councils go pesticide-free, and have just released a new guide to plants you might find growing on your streets.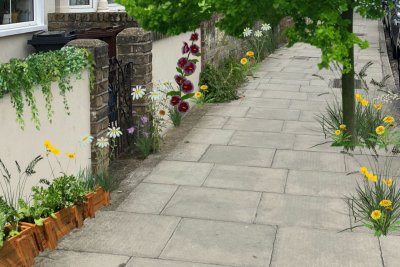 A pavement with wild plants growing. Credit: PAN-UK
Pesticide Action Network UK (PAN-UK) campaign to eliminate the use of hazardous pesticides, to reduce dependence on pesticides, and to promote ecologically sound, and socially just, alternatives to chemical pest control.
They have been working with councils to help them go pesticide-free, and have shown that it is possible to help nature thrive without reducing the accessibility or utility of public spaces.
"Most councils in the UK still look to maintain a 'neat and tidy' approach on our streets, parks, and playgrounds. We prefer to celebrate weeds and the many health, wellbeing and environmental benefits they provide. These wild plants play a valuable role in supporting bees, pollinators, birds, and many other species that forage or shelter on them. They have their own intrinsic beauty that can bring joy to those of us that are lucky enough to see them."
Their brand-new publication, 'Greener Cities: A guide to the plants on our pavements' is a helpful guide to what you might find growing in the cracks and up the walls, to celebrate the bounty and diversity of wild plants in urban spaces. The guide also highlights some key problem plants that might need a bit more attention if they make a home between the paving stones.
To launch the new guide, they are running a two Pavement Plant Walks this weekend in London. Tickets are being sold on a 'pay as you feel' basis, and there are free spots available if cost is a limitation.
BOOK HERE to join a pavement walk in Brixton on Saturday 8th July at 1:30 – 3pm
BOOK HERE to join a pavement walk in Shoreditch on Sunday 9th July at 1:30 – 3pm

---
06/07/2023
Share
Get updates