Environmental experts call on retailers to end sale of climate-harming compost
Sustain, alongside leading environmental charities, has written to garden retailers challenging them to end the sale of peat-based compost ahead of global climate and nature talks this year.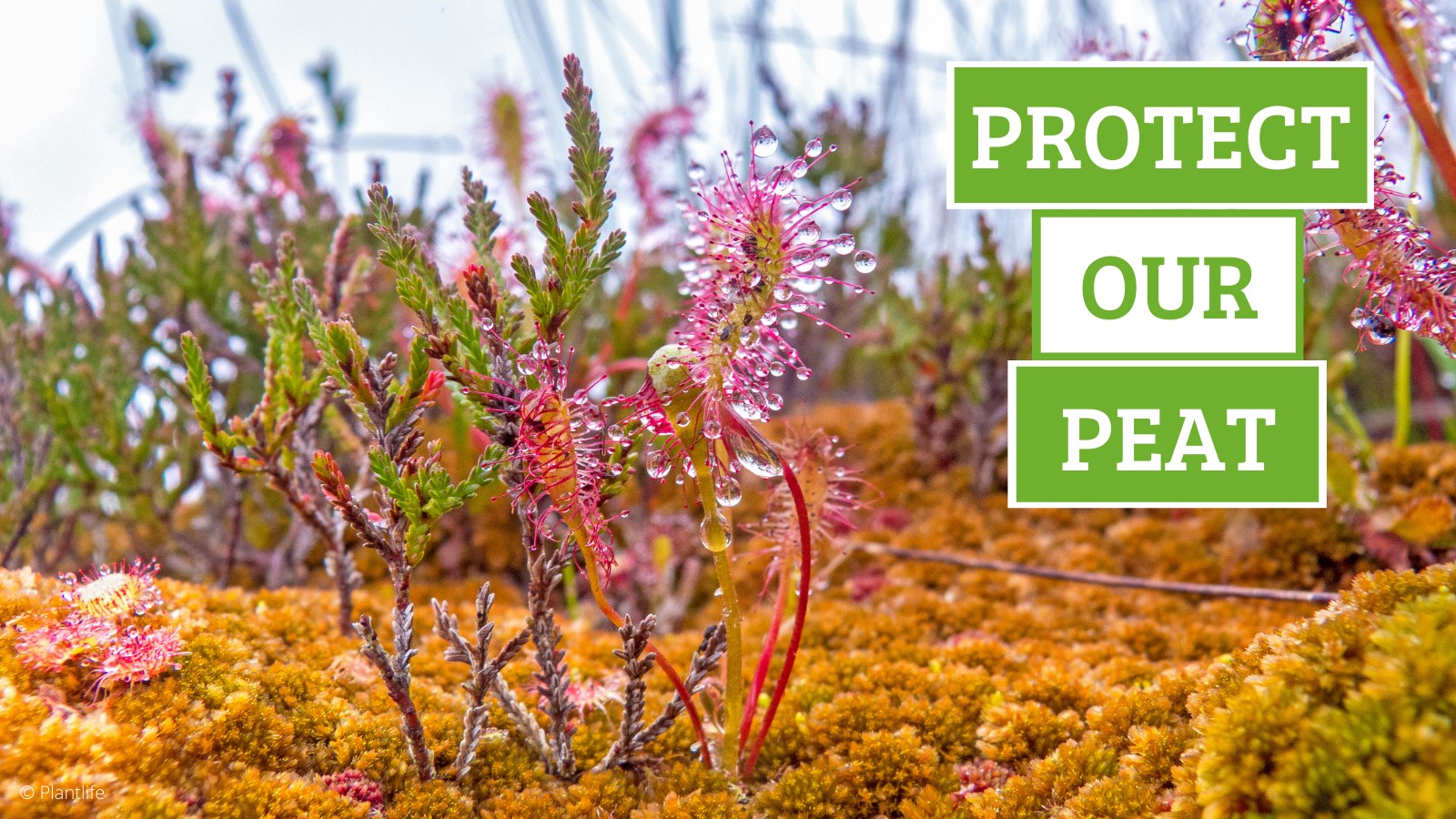 Credit: Plant Life
In a letter to major retailers, 28 environmental charities, including Sustain, are warning that sales of peat-based compost are damaging nature and contributing to climate change, and should be ended within the next 12 months. They are challenging businesses to play their part in protecting wildlife and our climate, by committing this summer to ending peat-compost sales, before the UK-hosted global climate talks this November.
In 2011 the Government set voluntary targets for retailers to end sales of peat-compost to the public by 2020, but 10 years on retailers are still failing to act. In 2019 peat still made up over 40% by volume of the growing media sold in the retail sector, a huge volume of UK compost sales with the amateur gardening sector making up c.70% of horticultural peat use. A survey of retailers by The Wildlife Trusts has shown that since the 2020 voluntary target to end peat-compost sales was spectacularly missed, only Co-op (which now only sells peat-free bagged compost), Waitrose and Travis Perkins have committed to action this year.

The following 18 retailers, whom the charities have written to today, have not yet committed to ending sales of this damaging product within 2021:
1. B&Q (plan to be peat-compost free from some point in 2023)
2. Dobbies (plan to be peat-compost free from some point in 2022)
3. British Garden Centres
4. Wyevale Garden Centres
5. Gardenstoreonline
6. Blue Diamond
7. Klondyke & Strikes Garden Centres
8. Hillier
9. Haskins
10. Suttons
11. Homebase
12. Wickes (plan to be peat-compost free from some point in 2025)
13. Tesco
14. Asda
15. Aldi
16. Lidl
17. Morrison's
18. Sainsburys
Craig Bennett, Chief Executive of The Wildlife Trusts, said:
"If garden retailers are serious about their responsibility to tackle climate change, they will stop selling peat compost right now. There is no time left to spare and there are no excuses left to stall with.

"The Wildlife Trusts' petition proves there is huge public support for a ban on the sale of these planet destroying peat products. We challenge retailers to be ambitious and step up to the challenge as soon as possible - rather than waiting until they are forced by the Government to stop sales of this outdated and unnecessary product."
There is huge public support for ending the sale of peat-based compost with a recent petition from the Wildlife Trusts attracting 30,000 signatures. YouGov research for Wildlife and Countryside Link in January revealed that most British consumers want to see peat-based compost banned. Only 5% oppose the banning of peat-based compost, with 47% supportive, 22% neutral and 26% unsure. Over 65s are most supportive with almost 6 in 10 (59%) backing a ban (this is important to note as 65-74 year-olds also have the highest spend on gardening products).
Peatlands are the most carbon-dense land-based habitats in the world, and the UK's biggest carbon sink. But damage to our peatlands from horticulture, farming and forestry practices is causing the release of an estimated 23 million tonnes of carbon every year from UK peatlands, making it vital to restore and protect our peatlands as part of UK action on climate change. Peatlands are also unique habitats home to rare wildlife like the golden plover, hen harrier and large heath and swallowtail butterflies. Protecting our peatlands protects the homes of our most vulnerable birds, butterflies, plants and other wildlife.
Alternatives to peat-based compost are increasingly available to retailers, including coir dust (from coconut husks), wood fibre and bar, and many gardeners can also make their own high-quality compost at home. The Government committed in its recent Peat Action Plan to consult in 2021 on legislation to ban peat-based compost measures, but retailers can, and should, commit to ending peat compost sales before they are required to by law.
---
28/06/2021
Share
Get updates