Inspiring voices: reflections from our Spring into Action event
To kick start the new growing season and launch #GoodtoGrow2021, four guest speakers spoke to the network reflecting on their experiences of urban food growing at recent event, Spring in Action.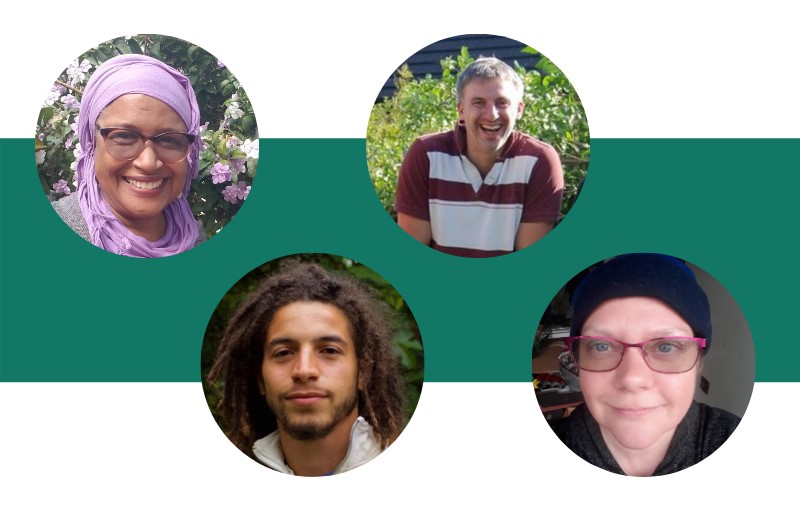 Guest Speakers from our launch event: Arlene McKenzie, Tayshan Hayden-Smith, Kieron McGlasson and Annie Wynn
Listen back to hear more from:
Kieron McGlasson from Sow the City, Manchester's food growing network, who described how their network kept growing safely through the crisis, securing new growing spaces and diversifying their programmes to keep volunteers connected;
Tayshan Hayden-Smith, from Grow2Know, who described his commitment to beautify and "green up" his local community in the wake of the Grenfell fire and challenge stigmas and barriers facing young people and people from BIPOC communities from accessing nature and growing spaces. Tayshan said, quite simply:
"Gardening makes your soul smile"
Arlene McKenzie, from Black Rootz at Ubele, who introduced the Rootz into Food Growing programme which aims to support people from the Black, Asian and Ethnic Minority (BAME) community reclaim the food growing sector and challenge previous perceptions of BAME involvement in farming in the context of colonial history behind land ownership;
Annie Wynn from Let's Go Preston, who supported her community transform 'grot-spots' into new growing spaces, talked through the work they have been doing with the Prince's Trust, Young Offenders Team and the National Citizen Service (NCS) Challenge to help get more people into community food growing and access training.
Good to Grow is an online platform to support food growing in the UK, run by Sustain and Capital Growth. The network is all about getting people involved in their local community garden. You can register your garden for Good to Grow day 2021 for free to promote your garden locally to volunteers and other organisations using our Good to Grow Map, as well as using the online Harvest-ometer and gaining access to a resource pack full of ideas and materials to help you run online and Covid-safe in-person events
---
05/03/2021
Share
Get updates