Capital Growth's Community Food Growing Convos
Community garden members in London came together to share experiences of connecting to food banks, providing green social prescribing services, and growing food on housing estates. You can read their advice in a brand new set of resources.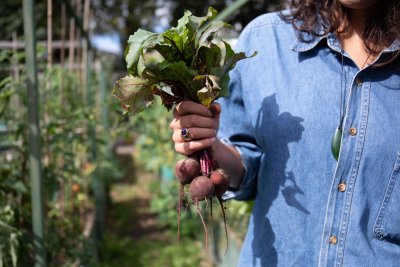 Freshly harvested beetroot at Cranbrook Community Food Garden in Tower Hamlets. Copyright: Zoe Warde-Aldam
Throughout the first three months of 2023, the Capital Growth team invited community food growers across London to meet in person to exchange experiences, troubleshoot with peers and reflect on how to support communities to become more resilient in growing their own food. The turn-out for the events was brilliant, and a huge amount of expertise was shared across a range of important topics.
The first session focused on connecting community gardens to local food banks and community groups. Whilst it doesn't solve food insecurity, we acknowledge that donations from community gardens are a crucial way to ensure fresh produce gets to the people who need it the most, at a time when many households are struggling to afford fruit and vegetables. Community gardens in the network are already rising impressively to that challenge, and their experience has been captured in this resource sheet.
The second meeting was a deep dive into social prescribing: a way of linking with healthcare providers to share the therapeutic effects of food growing with those who might need some support. Capital Growth have compiled this resource sheet to make it easier for more community gardens across London to assess whether social prescribing is appropriate in their setting and to share top tips for how to go about it.
And finally, in March, community growers came together to discuss food growing on housing estates. Food growing and community gardening initiatives on London's housing estates achieve multiple benefits for local residents and their communities from promoting health, wellbeing and community cohesion to creating greener spaces and increasing local biodiversity. The gardens have a wealth of experience to share with those hoping to do the same, which has been compiled in this resource.
All in all, the sessions were a huge success and we're very pleased to be able to share the insights and experience from the Capital Growth network more widely, to replicate their success.
If you're a community garden in London but not yet part of the Capital Growth network, sign up here. See what other events we have coming up by visiting our website, or signing up to our newsletter.
Donating surplus food from your community garden: a resource sheet.
Food Growing and Social Prescribing: a resource sheet.
Food Growing on Housing Estates: a resource sheet.
---
27/06/2023
Share
Get updates