New land worker union launches with investigation into worker treatment and UK-wide gathering
SALT, new grassroots trade union for landworkers, aims to put worker's rights, social justice and equality at the heart of the food system.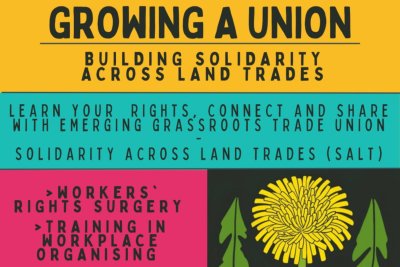 SALT event flyer. Credit: SALT UNION
SALT (Solidarity Across Land Trades), has launched with an investigation into the treatement of workers, and its first-ever national gathering. The gathering aims to bring together workers from across land trades to share experiences, discuss common challenges in growing, farming, and other food worker trades, and develop strategic plans to reshape the labour landscape in the sector.
National Gathering 8th July
Taking place on Saturday July 8th in Bristol, the gathering promises learning opportunities and collaborative strategising to bolster workers' collective power. Admission is free of charge or through a sliding-scale refundable donation, ensuring accessibility for all. SALT also offers subsidised travel.
Workers' Inquiry
Drawing inspiration from successful worker-led campaigns and the rich history of agricultural trade unions, SALT is aiming to develop solidarity across land-based trades and raise the voices of workers to organise for fairer conditions, care, and justice.
Non-management level employees, freelancers, and trainees in land-related trades are encouraged to complete SALT's workers' enquiry survey, which is aiming to offer valuable insights into the challenges faced in the sector and help inform the work of the union.
The launch of SALT marks an important step towards worker mobilisation in a sector that has been identified as rife with abuse, but not had strong trade union representation in recent years. Those seeking to stay informed and engage with the SALT community can join the mailing list or Discord channel, contact salt_union@proton.me.
Additional information and booking via the Eventbrite page. SALT is being suppoted by Sustain's Food for the Planet campaign.
---
24/05/2023
Share
Get updates