A Fortnight of Food and Festivities
2017 saw London Food Link's 6th annual Urban Food Fortnight, with 100 events and special menus across 24 London boroughs, celebrating food for good.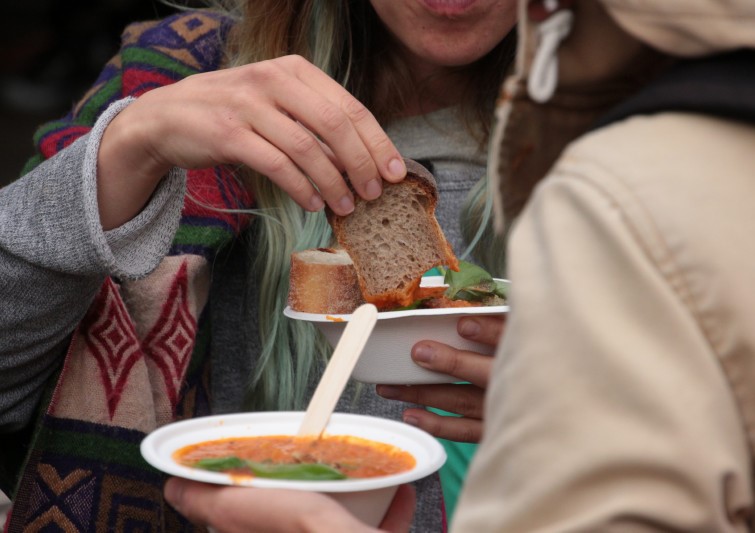 Photo: Chop to the beat - thousands joined EFFECT and Feedback for their Disco Soup at Mercato Metropolitano
More than 40 London-based growers and producers, as well as 80 event organisers, got involved. Of course, it wouldn't have been possible without the thousands of food-loving Londoners who celebrated along with us. To everyone who attended an event, or tried one of the London-themed menus on offer at Foxlow, OXO Tower Restaurant, Bar and Brasserie or Island Grill - thanks for getting involved!
There was so much fantastic hyper-local food and drink to enjoy this year with honey, sausages, mead, crayfish, wine and even halloumi-style cheese produced right here in the capital. As testament to our flourishing food scene, Little Green Duckie put on a supper club made entirely with London ingredients, and Sustainable Food Story hosted a dinner and discussion on how London could feed itself in a 'foodpocalypse'.
New for 2017: Fish, Foraging and Food for Good
As well as the usual supper clubs, cookery classes, farmers' markets and Capital Growth's urban harvests, we had some new ideas and activities up our sleeves for 2017.
We teamed up with Sustainable Fish Cities and the Sustainable Restaurant Association to host a workshop for chefs on sustainable species at Mercato Metropolitano, which also hosted a fantastic Disco Soup with food waste campaigners Feedback. The keen chefs were treated to an expert filleting demo from George Hooper, the youngest ever winner of the National Federation of Fishmongers' British Fish Craft Chamionships, and got to practise their own knife skills. Believe us, it's way harder than it looks! They cooked and tasted underutilised species like trout, coley, mackerel and hake - hopefully we'll be seeing these on more London menus in future.
Think foraging is just for country folk? Urban foraging was the inspiration behind several of this year's events. We found bountiful apples, plums, blackberries, rose hips and more on the city's streets. We even spied an avocado tree! Jason Irving ran a south London foraging walk to find hidden gems, while Rachel de Thample showed us how to preserve these foraged fruits in capital with London dry gin.
Finally, we delved into the world of Food for Good. We're so lucky in London to have so many inspiring initiatives working to help people to train, to find work and to cope with illness or injury through growing, making and cooking great food. We heard inspiring stories from many of them at our Food for Good Celebration with UnLtd at Today Bread, and got to experience the tears and laughter first hand at Headway East London's amazing supper club.
Thanks so much to everyone who took part – we can't wait to do it all again next year.
Feedback and Photos
If you took part in UFF as a producer or event organiser please share your feedback with us
If you have any photos from UFF you'd like to share with us, please send them to londonfoodlink [at] sustainweb.org, or tag us on Facebook, Twitter or Instagram @londonfoodlink.
---
05/10/2017
Share
Get updates