June Spotlight Garden Summer Solstice Open Evening
Come visit our June Spotlight Garden - Community Apothecary @ Chingford for a perfect way to celebrate this year's Summer Soltice on Friday 24 June from 4-7pm.
24 Jun 2022 16:0019:00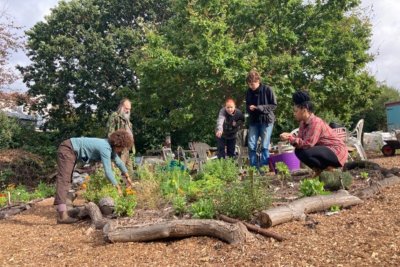 Community Apothecary setting up their newest Mulberry Close site in Chingford. Copyright: Community Apothecary
Community Apothecary welcomes you to join for a midsummer celebration of life, herbs, land connection and community exchange at our June Spotlight Garden on Mulberry Close, Chingford in North London. At this beautiful site, they are developing a wild medicine garden of health-giving herbs and forest garden while supporting rich ecosystems and the building of community through our activity together. The team behind Community Apothecary are growing and caring for this old allotment site, regenerating it as a space of learning, communion and cultivation of plant medicines that they collectively make into remedies for the borough of Waltham Forest.
Through Capital Growth's Spotlight Garden programme, you are invited to a solstice open evening on Friday 24th June from 4-7pm. There will be foraged feasting, meeting and making of friends, summer birdcall and a tour of their herb beds and forest garden areas. You will also get the chance to hear more about their project vision and activity including how you can get involved, take part in discussion around community herbalism in London and breathe in sweeter summer air gazing out at their spectacular hilltop vista!
If you'd like to and are able to spend the full day outdoors, you're welcome to join them from 10am for their regular garden day and lend a hand with gardening activities. Please let them know you'd like to join earlier at the garden by emailing communityapothecary.wf@gmail.com.
Please note that registration is necessary given the space limitations of the site. Best to sign up early for your free ticket.
How to get there
Mulberry Close, Chingford E4 8BS
Turn left off Old Church Road into Mulberry Close after the Greene Man pub.
Follow the close right to the end where it turns to the right and you'll see the black entrance gates after the last house. Go through and follow the path right down.
The 97 bus runs from Walthamstow and stops on the main road.
Accessibility
The ground is uneven and the whole site is gently sloped. We have woodchip paths so not ideal for wheelchair access but possible.
There is no running water on site so please bring plenty of water to drink.
There is a compost toilet.
Share
Get updates
Support our work
Your donation will help communities grow more food in gardens across London.
Capital Growth is a project of Sustain: the alliance for better food and farming.