May Spotlight Garden Open Day at Coco Collective's Ital Community Garden
Come visit our May Spotlight Garden - Coco Collective's Ital Community Garden - on Sunday 29 May to see and help out at their budding Afro-diaspora led garden in Lewisham.
29 May 2022 09:3016:00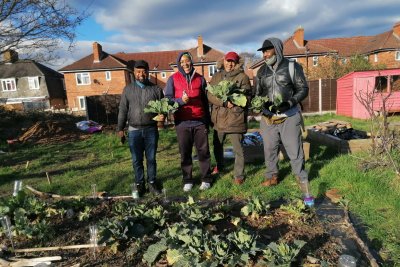 Coco Collective at the Ital Community Garden. Copyright: Coco Collective
During the month of May, Capital Growth is featuring Coco Collective's Ital Community Garden as part of the Spotlight Garden programme.
For the perfect opportunity to meet see the garden, meet the people involved and lend a hand in building a community legacy, we're bringing you an open day on Sunday 29 May from 9.30am until 4pm.
Programme for the day and timings
Visitors are welcome to drop in anytime from 9.30am until 4pm to talk to the team and see how the Ital Community Garden is run.
Tools and assistance will be provided to anyone wishing to get stuck in and help with gardening tasks. For those who do help, there will be delicious Caribbean food cooked up with love on site.
Address: The black gate next to, 71 Firhill Rd, London SE6 3SE
Booking: This is a drop-in event so no need to book. Please contact the Capital Growth team for any more info.
Share
Get updates
Support our work
Your donation will help communities grow more food in gardens across London.
Capital Growth is a project of Sustain: the alliance for better food and farming.