Calthorpe Community Garden
Meet the very first Spotlight Garden that kicked off our programme in September 2021, featuring the veteran oasis in King's Cross. The story behind this community garden has its roots in the early 1800s.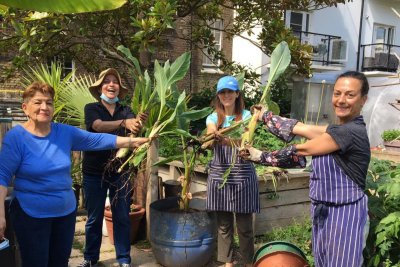 Enthusiastic volunteers from all walks of life get together in the garden. Copyright: Calthorpe Community Garden
---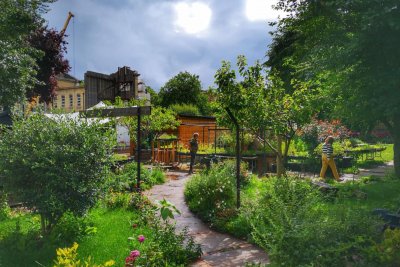 Once upon a time, the site on which Calthorpe Community Garden was leased to Thomas Cubitt, a well-known builder who was responsible for a hefty part of London's construction back then. Fast forward to the 1960s when the very same land was bought by Lyon Group who had planning permission for a 70,000 square foot office development. As fate would have it, the developer went bankrupt just after they had put the office foundations on site and this then lead to Camden City Council taking ownership of the land. In 1980, Camden has the papers prepped to sell the land for offices based on the old planning permission.

Lucky enough for the land though, local residents concerned about the impact of such a large development on their daily lives decided to take matters into their own hands. They rallied efforts to launch a local campaign to protect the space which included petitions, pressing for political action from councilors and even sending a delegation to Camden Council to represent the local residents' best interests in discussions. The community really came together to save the site and their efforts finally paid off in June 1983 when Camden set aside money to develop the site as gardens, play space and under 5s child activities for the residents of Kings Cross. The very next year, Calthorpe Community Garden became a charity and a company limited by guarantee.

It's been over 36 years since Calthorpe Community Garden was officially established, but given its extensive back story, you can imagine just how deep their trees' roots run and what stories they would share with us if they could talk. Can you imagine if this green oasis had been turned into a 70,000 square foot office space for real?!
---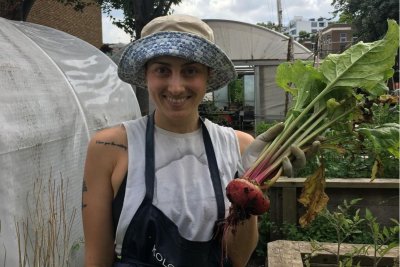 After nearly 40 years since first opening their garden gates, the Calthorpe Community feel that their space is one of inspiration where people can learn about how to live more sustainably in the heart of London. They are very proud of the fact that, in addition to being a haven for the birds, bees and all the other wonderful creatures that make our home planet habitable for all life, they are still able to support and meet their needs of their neighbours and people who love to grow in general. This includes student volunteers like Carolina de Barba, local residents and people with specific support needs from both the local Camden community and from further afield. Afterall, people power is what worked to save the space from development way back when.

Thanks to a well-developed infrastructure that was built over the years, Calthorpe Community Gardens has also become a space for different groups and organisations to carry out their own experiments looking into how we can address the climate emergency. A great example of this is the closed loop system they have been operating for the past five years, making fertiliser from food waste and using it to grow food which they cook on site. They are not just a green space – they are a hub where people can come together, regardless of where they are from or what age they might be, to simply feel at home. Now that's a feeling you don't often get the chance to feel in a city as big as London!
---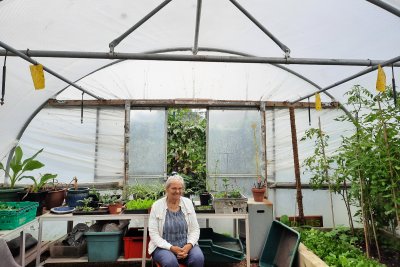 With all the shades of green you can find at Calthorpe Community Garden, it's definitely the people that are at the heart of this incredible space and there is one particular person who helped shape it around the local community right from the start for this Spotlight Garden.
⠀
Annika Miller Jones has been a neighbour to the site long before it almost became an office block in 1981. She always imagined the space would best serve residents as a back garden for everyone who didn't have one. Perhaps her architectural background gave her a deeper appreciation for spatial needs, and she definitely put that skillset to use while spearheading the grassroots movement to save the site.
⠀
From 1981-1983, Annika worked with a group of dedicated local residents to draw up a proposal for an open space that was co-designed with the local community. The name, logo and plans for the site all came together through 'Planning Parties' they held using models, maps and drawings to engage people in building the collective vision for the space and taking part in the decision-making process around it.
⠀
While Annika feels their circumstances were very much a right-time-right-place scenario given that the developers had gone bankrupt and their planning permission expired, it doesn't take away from the sheer people power. What also helped was Kings Cross being a Community Benefit Area at the time meaning there was funding to match social priorities and target actions. Where the council couldn't help with cash, they supported in kind with landscaping skills to go according to Calthorpe's plans.
⠀
Things came together organically, and still do to this day -- whether it's the Bengali community managing the women-lead allotments growing native crops or a Positively UK support group coming in for a horticultural therapy session. Calthorpe Community Garden has it all.
⠀
Despite all this social and environmental richness, the challenge today is funding. The usual channels are drying up fast, forcing gardens to explore ways of diversifying their income to overcome the series obstacles the pandemic has triggered. Swift creative solutions are needed because we really need spaces like these!
---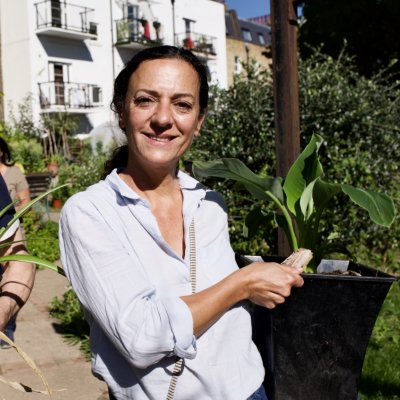 On Friday 24 September 2021, Calthorpe Community Garden hosted a lunchtime screening as part of #UrbanHarvest2021 to featuring short films made by various community food growing gardens in London and Reading. We were joined by Les Levidow, Senior Research Fellow at The Open University who coordinates the 'Grassroots Visual Storytelling' project in partnership with RISC these films were created through, to spark a conversation around what food growing spaces mean to their communities in an open mic set-up. Gathered in the garden's activity shed, people began to share reflections on how they connect with the space and the impact it has on their lives. Some were long-time volunteers of Calthorpe's thriving community. Others were brought along by active members to join their Harvest Festival and a few even happened to wander into the garden by chance.
⠀
What we experienced together was a moving outpouring of the variety of ways in which the garden has offered so many people from such different walks of life a sense of belonging and meaning. They spoke about getting to know other people and cultures, sharing skills with each other and between different generations, feeling healthier overall for spending time with others in the garden rather than sitting at home. All these things had an extra special importance during lockdown when many of us were struggling with social isolation.
⠀
The whole conversation struck a particular chord with Mila Campoy, the Calthorpe Community Garden manager (aka doer of all everyday things pictured here!). If you've ever met this wonderful being at the garden, you've seen first-hand how much a part of the community she is and how busy she is keeping it all going! This post-screening discussion ended up being one of those rare occasions where Mila had a moment to stop and really hear how her everyday role at Calthorpe makes a world of a difference for the local community. In a soundbite from the discussion, she shares her candid reflections on how she sees the space herself.
⠀
You can watch the community food growing films online here.
Want to find out more about Calthorpe Community Garden? Visit their webpage or contact them here.
Share
Get updates
Support our work
Your donation will help communities grow more food in gardens across London.
Capital Growth is a project of Sustain: the alliance for better food and farming.