Community Apothecary - Mulberry Close Garden
In June 2022, we updated our Spotlight Garden format to provide the summary of the garden's key information followed by reflections on their open day during their month of feature. That same month, we shone a light on Community Apothecary's newest site -- Mulberry Close Garden in Chingford, East London.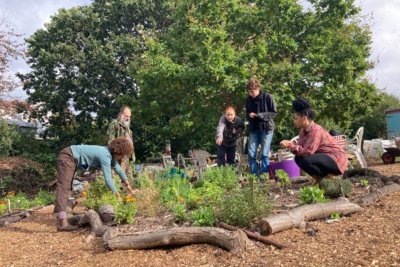 Community Apothecary members at their Mulberry Close site. Copyright: Community Apothecary
June 2022 Spotlight Garden - At a Glance

Garden name: Community Apothecary @ Chingford

Garden location: Mulberry Close, Chingford, E4 8BS

Type of garden: Allotment site

Who's behind the garden: Community Apothecary CIC

Garden mission: A patchwork of medicine gardens facilitated by herbalists and growers where people can learn, share, do and make to support their collective healthcare & wellbeing - following a process of 'seed to salve' where plant medicine remedies are grown, harvested and made together for the local community, a circle of resource-sharing!

Who the garden serves: Its neighbours in the locality, their volunteer community - a mix of Londoners, herbal medicine students and apprentices, its ecosystems.

What support they'd like from the wider public: Local interest, joining their weekly garden sessions connecting with seasonal cycles, input into their understanding of healthcare needs to inform their medicine making, bring interest/skills in herbalism and land care, access the medicines they make, share in the joy!

How you can get involved: You are very welcome to join Community Apothecary at weekly (Wednesday) garden days (10am-4pm through the summer months) where they rotate around our 4 sites in Waltham Forest. You can also get involved in medicine making with their herb harvests, and they offer monthly making workshops (first Sunday of each month) at the Hornbeam Cafe in Walthamstow. You can find out about all this and be updated with their monthly newsletter that you can sign up to here.
Reflections on our Summer Solstice open eve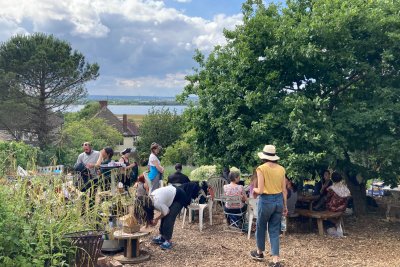 On Friday 24 June from 4-7pm, we were at our June 2022 Spotlight Garden set up by Community Apothecary on Mulberry Close in Chingford for their Summer Solstice open eve. And what a treat it was!
It was the very first time Community Apothecary had invited the wider London community beyond their trusty volunteers, friends and neighbours onto their largest site.
Since they first got given the land from the council (by way of Organiclea) in April 2020, they've been gradually transforming this Waltham Forest allotment site that was left to scrubland over decades partly due to having no water source - into a medicine and forest garden.
It's now a home to herbs, community connections and learning while appreciating the richness of life culture already flourishing here with birdsong, plants and wild beauty.
Our open eve was complete with delicious food, tours, chats and harvesting, to share the project with people. Poignant reflections on the journey so far and a deep appreciation for being able to harness the power of collective action in realising a shared vision also had their place.
The beautiful gathering couldn't have happened without the team behind Community Apothecary (here's to you, Rasheeqa, Izzy and Randa!) and the rolling crew of fabulous people who have all played a part along the way. That included Allotments Officer at Waltham Forest council, Mariela, who is leading on improving access to community food growing in allotment spaces for those who are not traditionally involved.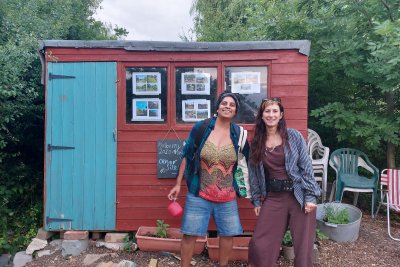 Rasheeqa shares that "Mulberry Close reflects this communal will to create healthier systems of relationship and care for us all, land and creatures and life".
Follow their work on Instagram and YouTube for herb learning videos.

Want to find out more about Community Apothecary? Visit their webpage or contact them here.
Share
Get updates
Support our work
Your donation will help communities grow more food in gardens across London.
Capital Growth is a project of Sustain: the alliance for better food and farming.