Finchley Central Energy Garden
For April 2022, our Spotlight Garden programme takes us to just 10 steps away from Platform 3 at Finchley Central tube station with Energy Garden.
---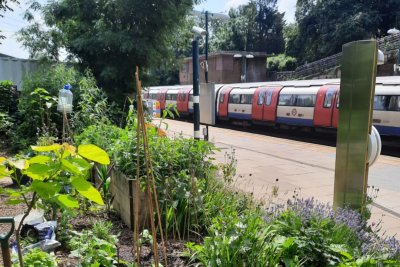 If you like the idea of underused spaces being transformed into productive food gardens, you'll love Finchley Central Energy Garden.
Set up in 2019, it's one of 26 railway station gardens in London, not only maintained and supported by, but also the brainchild of Energy Garden. The not-for-profit has supported 127 community groups to turn thousands of metres of grey space green, improving biodiversity and offering more Londoners the chance to grow food.
From 2012, when founder Agamemnon Otero and residents greened a corner of Brondesbury Park station, the project went on to be recognised by the World Economic Forum, the UN and the UK Cabinet Office in the runup to COP26. Going forward, it plans to become financially self-sufficient through the sale of community-owned renewable energy.
The Finchley Central project began in 2017. It took two years to get permission, and eventually began as a place for the community to plant flowers, giving some much-needed life and colour to the platform.
Hungry to gain more horticultural skills and keen to help the local community, locals involved found they wanted more for the space. The appointment of a Community Engagement Officer was key in this transformation and helped bring everyone's ideas to life.
Growing food on the site in response to the pandemic has given the garden a new sense of purpose. The volunteers formed a relationship with a local food hub in Barnet and now regularly provide them with freshly platform-grown produce. They also contributed to providing free school meals at Christmas.
This small garden is not just a haven for wildlife but also helps feed the local community. As the volunteers say, it's always a source of education and entertainment for commuters & locals. Tube drivers and passers-by often stop to chat and take a look. It's been said that some have even changed their commutes so as to marvel at the station garden's progress.
---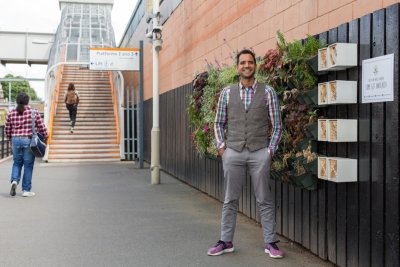 'Change doesn't happen quickly. You need to be willing to put in the time and the work – both in the garden and with the people'. Agamemnon Otero has certainly done this in droves for 20+ years, of which the last eight have been focused on building up our inspiring April 2022 Spotlight Garden Energy Garden.
To date, this Community Benefit Society has set up 34 trackside community edible gardens across London's transport system. They also generate community-owned renewable energy and run a school and accredited youth empowerment programme in renewable energy and horticulture.
Agamemnon impressively holds several senior roles in addition to being Director and CEO of Energy Garden. He's also advised UK and EU governments on community energy policy. And did we mention he was awarded an MBE in 2016? He didn't mention any of these titles to us. Instead he spoke about his passion for bringing horticulture, biodiversity and community energy to empower Londoners in the regeneration of our city from seed to solar power. He champions projects like Energy Garden to address racial, social and economic inequalities by challenging the power dynamics around access to land too.
With 2.4 billion yearly passengers on London's over- and underground, he believes how we think about this land, regardless of who owns it (Network Rail or Thames Water usually), needs to change. He starts from the principle that it's urban common land and our natural capital. By changing the narrative from one where the land is off-limits to one where the land is publicly accessible for local people to co-manage urban wildlife corridors -- possibilities start to unlock.
Energy Garden is actually quite radical and setting a new precedent, not only increasing the city's biodiversity (turning grey sites green) but also creating community energy and putting power (and land) in the hands of the people. In the meantime, Agamemnon invites commuters to look up from the platform or out the train windows and see the solar panels, community gardens, beehives and little ponds to reimagine what our cities could look like and to picture a more sustainable future.
---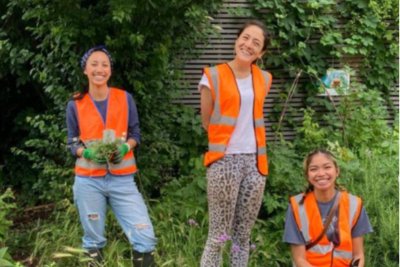 It's time to shine a light on Energy Garden's Community Engagement Officer Naomi Paine. Naomi has an MSc in Plant Diversity and a background in ecology, having previously worked at Kew Gardens, Trentham Estate and The Chelsea Gardener. In search of a stronger community focus, she found exactly what she was looking for in her role at Energy Garden. Naomi now works directly with community groups at 10 of Energy Garden's railway platform gardens. Her role is to build great relationships with all of the volunteers and help transform these previously concreted areas into blooming spaces of biodiversity and community fun.
She acts as a facilitator, taking the volunteers' ideas for the garden and helping put them into action, making sure the sites are flourishing community spaces. This means navigating the complex web of different landowners and rail companies to overcome all the hurdles that would otherwise stop local people accessing these spaces in the first place. Another big part of her job is education – showing people what can be done in urban areas beyond just planting flowers. Her work demonstrates what healthy habitats and ecosystems can look like, even in the smallest of spaces.
Naomi describes the relationship that she and Energy Garden have with the volunteers as symbiotic. They provide the space, access and materials; the volunteers bring the space to life with their energy and community spirit. She most enjoys being on site with the volunteers and seeing the growing progress both in the garden and of volunteers' knowledge.
When the Finchley Central garden was first set up in 2019, the station staff were wary as many greening spaces projects had been set up in the past with no plans on how to keep them going longer term. However, the diligence and passion of the core group of volunteers with the background support of Energy Garden quickly won them over and continues to do so to this day.
---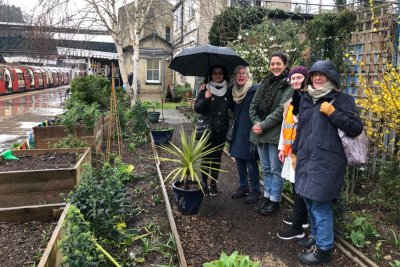 As part of this year's Good to Grow days of action, our April 2022 Spotlight Garden held its own day of action at Finchley Central station. It was a such a great day thanks to their incredible volunteers who each found connected with the space by different means.
Liz and Margie have been friends for years and involved with the site since the very start. Liz remembers spotting a flyer in her local café over 3 years ago. With more time to give to her community having retired from the NHS, she and Margie turned up to find out more.
Cathy was a local gardening expert who wanted to share her knowledge with others. Jane joined the garden soon after – having just moved to a house without a garden after her husband passed. She recalls how much she wanted to connect with growing in her local community at that point.
Lisa always loved looking at the garden as she travelled through the station. She wanted to volunteer to help make it shine and produce even more veg to contribute to local food banks. Nilam, a more recent addition to the group, was nudged by the pandemic to find a way to reconnect with nature and loved the idea of a garden on a tube platform.
Like so many other community gardens that rely on volunteers, a fast-paced and lively WhatsApp group is key in keeping people connected and staying on top of tasks. With Naomi's supporting role as Community Engagement Officer, they take forward bigger plans for the site. Listening and making decisions together as well as learning from each other is a big part of the ethos on platform 3.
Margie has been key in building a relationship with the local food hub, Jane was a main driver of their new compost system, Liz masterminded the beautiful growing arch, Cathy brings all her vegetable seedlings from home and Lisa uses her creative eye to keep everything looking meticulous. Nilam has gone from gardening newbie to resident expert on succulents. It's clear to see both the people and plants are thriving in the garden!
True to their enthusiastic nature, the volunteers have even more plans for the future, intending to put in herb beds and a solar panel very soon. Commuters will surely continue to be amazed!
Want to find out more about Energy Garden? Visit their webpage or contact them here.
Share
Get updates
Support our work
Your donation will help communities grow more food in gardens across London.
Capital Growth is a project of Sustain: the alliance for better food and farming.