GET OUT Food Forest
We're excited have featured GET OUT Charity and their hidden gem of a food forest in Bow as our September 2022 Spotlight Garden. With connecting kids to nature at the heart of what they do, fun is a big part of what they teach and how they do so.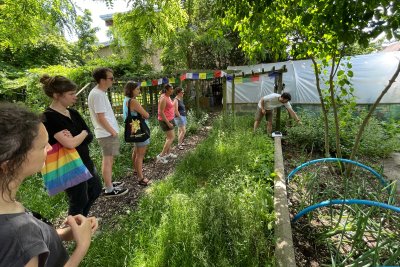 GET OUT founder and director, Kieran Harkin, giving visitors of tour of the charity's food forest gardens.. Credit: GET OUT Charity
September 2022 Spotlight Garden - At a Glance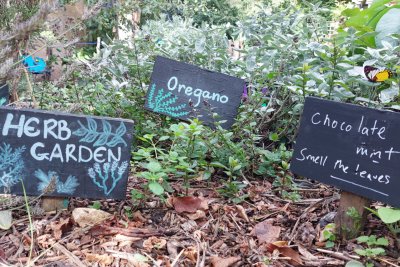 Garden name: GET OUT Food Forest
Garden location: Harley Grove, Bow, E3 (next to Gurdwara Sikh Sangat)
Type of garden: Demonstration garden, event space and community garden.
Who's behind the garden: Kieran Harkin, GET OUT Founder and Director
Garden mission: Connect people to nature. They do this through food growing courses, maintaining garden for use of local schools and allow anyone to volunteer, visit or use the space for their own events.
Who the garden serves: Local Bow (and Tower Hamlets) community but it's open to all. During school hours, the primary school next door has exclusive access.
How you can get involved: You're welcome to join GET OUT's volunteer sessions which usually take place on Saturdays but they have a volunteer growing team that have their own access.
Get in touch and have a chat or visit and see what's going on and discuss many ways to get involved.
Email: kieran.harkin@getoutuk.org
Telephone: 07516 986430
Reflections on our open day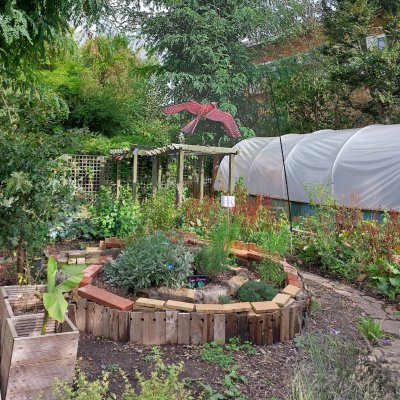 On Friday 9 September, we had the immense pleasure of joining our September 2022 Spotlight Garden at their open day from 4-7pm.
If you haven't yet heard of, let alone been, to this hidden gem of a garden off the back of a primary school in Tower Hamlets, you'll want to soon!
This lush garden has everything any outdoorsy person, child or adult, could ask for. You have a beautiful pond, a food forest area, a composting corner, growing in raised beds and straight the ground, shaded canopy area, a polytunnel for propagating and growing in the winter, an aromatic herb spiral garden, a mini skateboard half-pipe (yup, you read right!) and the cutest fairy doors dotted all around made by neighbouring schoolkids.
While the weather wasn't necessarily on our side, we did manage to get the skateboard demo in on the halfpipe led by Marie and Dayax before the clouds cracked open and chucked it down. During the downpour, we moved into the school assembly hall for shelter (the perks of being on school-owned land) and a fully participative demo from Senzala London teaching us some capoeira basics -- live music included!
When the rain finally cleared, we headed back into the polytunnel for a mushroom growing workshop with Alani, teaching us their top tips on cloning mushrooms to grow at home. To top it all off, Get Out founder & director Kieran and his trusted team of volunteers were taking sign-ups for Tower Hamlets first ever kids surf camp while giving away seeds for free to all attendees. This begs the question -- what does this garden not do?!
Thank you for having us, Kieran & Co., and showing us just how impactful it can be to have a green space that not only teaches us about food growing and living in harmony with the planet but also shows us just how many activities the local community can carry out in spaces like these.
If you'd like to visit the GET OUT garden, give them a follow on Instagram to find out when their next open day is, get in touch with them to volunteer at the site or help with their campaigning against plastic pollution. There are opportunities to donate or partner with the charity too!
Want to find out more about GET OUT Charity? Visit their webpage or contact them here.
Share
Get updates
Support our work
Your donation will help communities grow more food in gardens across London.
Capital Growth is a project of Sustain: the alliance for better food and farming.