GoGrowWithLove - Love Garden N17
Our Spotlight Garden programme takes us to North London in July 2022 where we feature the colourful Love Garden N17 set up during the pandemic in Tottenham for the local community by the women-led GoGrowWithLove CIC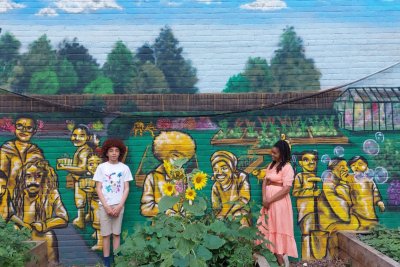 The inspiring Mother and Son behind the Love Garden N17. Copyright: Mayya Husseini
July 2022 Spotlight Garden - At a Glance

Garden name: The Love Garden N17

Garden location: Butterfield Close, Haringey, N17 7NT

Type of garden: Private Garden

Who's behind the garden: GoGrowWithLove CIC founded by Sandra Salazar with Metropolitan Thames Valley Housing Trust

Garden mission: To provide a safe come-unity green hub for local residents to enjoy growing food and being in nature. To empower and celebrate the diverse and multi cultural communities through food growing activities that support the development and improvement of the local area.

Who the garden serves: The garden serves the local families, children, gardening enthusiasts and local residents of the Tottenham area in North London.

How you can get involved: You're welcome to join Love Garden volunteer sessions which take place on the first three Wednesdays of every month from 11am-1pm. Love Garden family fun sessions run on the first Sunday of every month from 12-2pm.
To sign up, please contact: info@go-grow.org.uk.
Reflections on our open eve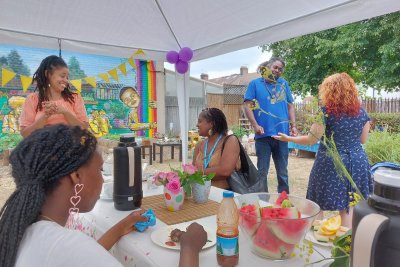 On Wednesday 20 July 2022, we were at the Love Garden N17 with GoGrowWithLove CIC for our July Spotlight Garden open eve. It was a MUCH cooler day compared to the scorching hot earlier two days and quite the gift to be in such a beautiful garden space spending time with the come-unity. Post-heat wave, it's crystal clear just how important these pockets of green are to fight the increasing effects of climate change we're seeing.
We were also lucky enough to experience what SoilsiStar and garden founder, Sandra Salazar, means by come-unity. Devoted volunteers, trusty friends and family came together to help set up a magical tea party complete with candles, fruits, flowers and tea cups just like Sandra had envisioned. There was also a barbeque going with delicious jerk chicken and salad with fresh kale, cherry tomatoes, callaloo and onions harvested from the garden to share with everyone.
Some people took on plant and raised bed watering duties, others planted some courgette plantings, a few got busy with the food prep, some set up an antiques market and a handmade bags & jewellery stall while local community members of all ages came to join us all in the garden.
Words of praise for Sandra's hard work in transforming the space to bring such nutritious value and tie people together through caring for neglected land could be heard all evening. Together, we got to sip on tea brewed with fresh garden herbs based on what we were needing in that moment. A fine example of care through community while learning more about the garden and its plans for further growth!
If you're in North London and looking for a place to connect with nature and come-unity, consider joining their gardening sessions every Wednesday 11am-1pm.
Also, follow them on Instagram to keep up with their news including the launch of local come-unity market days soon to start at the Love Garden N17. Delicious food and beautiful crafts up for sale are guaranteed!
Want to find out more about GoGrowWithLove? Visit their webpage or contact them here.
Share
Get updates
Support our work
Your donation will help communities grow more food in gardens across London.
Capital Growth is a project of Sustain: the alliance for better food and farming.