Growing For Change
The Growing For Change campaign supports London's urban food gardens to create community, climate and nature resilience. Learn more about our handbook co-produced with garden leaders from across the city and our practical guides on protecting food growing sites through designations developed with CPRE London.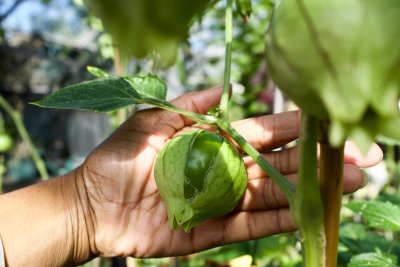 Paulette Henry of Black Rootz. Credit: Manal Massalha
Between April and September 2022, Capital Growth worked with 19 community leaders representing over 20 different urban food gardens across London to explore the opportunities and barriers gardens face in creating community, climate and nature resilience.
This work culminated in the production of:
a London garden's handbook to support gardens
a set of core values and guiding principles (included in the handbook)
a self-assessment tool for gardens to measure their progress (included in the handbook)
Make the Growing For Change Pledge
We invite London's gardens to make the Growing For Change Pledge by taking the following actions:
Download the Growing for Change handbook and read through our Core Values and Guiding Principles. Our garden leaders have helped bring our guiding principles to life with some beautiful examples from their gardens.
Bring your garden members together to work through the Self-assessment Tool (also found in the handbook) to identify the areas where you are doing well, as well as areas for improvements.
Login to your member dashboard to make the pledge. We ask gardens to commit to the Core Values and Guiding principles once they have read and agree with them by checking the Growing for Change pledge box on your member dashboard. If you're not already a Capital Growth member, you'll first need to join the network for free here.
Protecting food growing spaces: two new guides launched in October 2023
The first guide, Protecting a food growing site for the future, focuses on the preventative measures you can take. It covers two main ways you can protect your food growing space:
Designate it as a protected area
Monitor threats
Download the guide on protecting a site here
The second guide, Saving a food growing site that is under threat, helps communities respond if they are already at risk of losing access to their food growing site, due to a planning application being submitted for the land. It provides a range of actions that fall under two categories:
Planning & legal
Political campaigning
Download the guide on saving a site under threat here
Protecting food growing sites: interactive webinar
Although these guides are written with community garden members in mind, protective designations and planning regulations are complicated topics. To fully explore these guides and listen to experts on the topic, join Capital Growth and CPRE London for a webinar on protective designations for food growing spaces on Wednesday 15 November, 2.30 - 4 pm
We will be chatting with CPRE London Campaigns Officer, John Sadler, Sustain's Planning Adviser, Gillian Morgan, and Chair of St Quintin and Woodlands Neighbourhood Forum, Henry Peterson, about what protective designations are, different ones that exist and how they can apply to food growing sites.
Share
Get updates
Support our work
Your donation will help communities grow more food in gardens across London.
Capital Growth is a project of Sustain: the alliance for better food and farming.