Josiah Braithwaite Community Garden
Ready to meet our October 2022 Spotlight Garden? We're so excited to be featuring Josiah Braithwaite Community Garden in Shepherd's Bush, West London. This peaceful pocket of green is within the Nubian Life over 65s day care centre and the plants in its garden beautifully represent the rich diversity of the local community.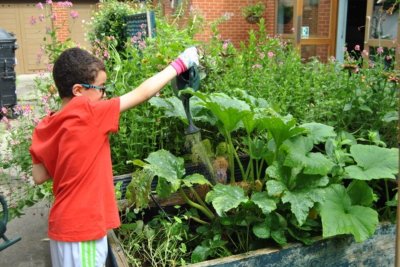 A local child taking part in Gardening Club activities. Copyright: Josiah Braithwaite Community Garden
October 2022 Spotlight Garden - At a Glance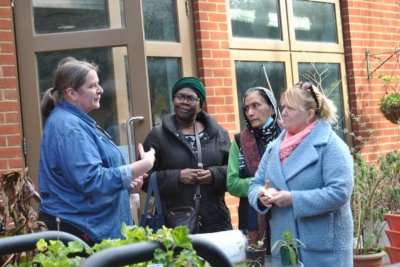 Garden name: Josiah Braithwaite Community Garden
Garden location: Nubian Life Centre, 50 Ellerslie Road, London W12 7BW
Type of garden: Community Garden
Who's behind the garden: Nubian Life Resource Centre
Garden mission: To be an educational space that teaches the local community about growing their own food on their windowsills, balcony or garden. It also demonstrates growing for wildlife and maximising food growing in small spaces with water-saving methods that include using wicking reservoirs, plant gels and inoculating with the soil-food-web.
Who the garden serves: The garden provides a sensory space for African Caribbean elders who participate in garden activities and for the local community who attend our Gardening Clubs.
How you can get involved: Everyone is welcome to come and join their Gardening Clubs and workshops. Let them know you are coming via email so they know how many to expect for lunch.
Email: jbcg@nubianlife.org.uk
Website: https://www.nubianlife.org.uk/josiah-braithwaite-community-garden
Telephone: 0208 749 8017
Reflections on their open activities in the garden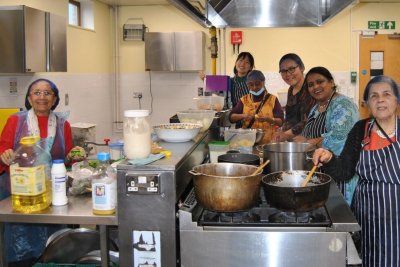 Throughout their month of feature, Josiah Braithwaite Community Garden put on fun, family-friendly activites every weekend to welcome everyone into their colourful space and offer those who joined delicious food for free.
On Saturday 8 October, from 11am-3pm, they hosted a paper-making activity as well as cooking with apples in their community kitchen.
On Saturday 15 October, from 11am-3pm, they lead a felting workshop teaching all those who attended how to make their own felt slippers just in time for the colder months ahead.
On Sunday 23 October, from 11am-3pm, they put on Diwali celebrations in the garden. People of all backgrounds and ages flocked to the space to celebrate the Hindu Festival of Lights together. There was lots to do including colouring in rangoli patterns, getting some henna designs drawn on hands and lighting up sparklers outdoors. Sumathi, the Nubian Life Centre chef, had cooked up a delicious feast with the help of dedicated volunteers for the near 50 people that attended. There was such glee in the air on this special day!
On Sunday 30 October, from 4-7pm, they welcomed Autumn in with fire, food and stories in the garden to wrap up an exciting month of Spotlight Garden activities.
At any time of year, the Josiah Braithwaite Community Garden always has plenty of ongoings. If you'd like to be kept in the loop about their free activites, you can sign up to their mailing list here.
Want to find out more about the Josiah Braithwaite Community Garden? Visit their webpage or contact them here.
Share
Get updates
Support our work
Your donation will help communities grow more food in gardens across London.
Capital Growth is a project of Sustain: the alliance for better food and farming.