New study shows biodiversity benefits from urban community gardens
Community gardens and urban farms positively affect biodiversity, local ecosystems, and the wellbeing of people that work in them, a new study shows.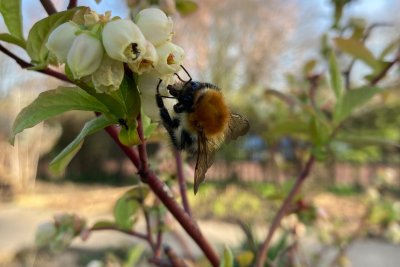 bee on fruit tree, Regents allotment garden. Credit: Chris Murphy
A recent study from the University of Texas looked at 28 urban community gardens over five years and quantified biodiversity in plant and animal life, as well as ecosystem functions such as pollination, carbon sequestration, food production, pest control, and human wellbeing.
The results showed that 'urban gardens present a critical opportunity to both support biodiversity and local food production' and a key factor is that community gardens, urban farms and community orchards tend to grow a greater diversity of plants in smaller areas.
It is thought to be the first study to explore the effects of urban food growing across such a wide range of biodiversity measures. Shalene Jha, lead author on the study says 'what we found is that these gardens, which are providing tremendous nutritional resources and increasing wellbeing for gardeners, are also supporting incredibly high levels of plant and animal biodiversity. It's a win-win.'
Are you involved with a community garden in London? If you're not already,
join London's Capital Growth network
and make the Growing for Change pledge to show your garden's commitment to the nature and climate emergency.
---
20/02/2023
Share
Get updates