New guide to support age-friendly volunteering in community gardens
A new guide and toolkit have been launched to inspire age-friendly and inclusive volunteering in community food gardens.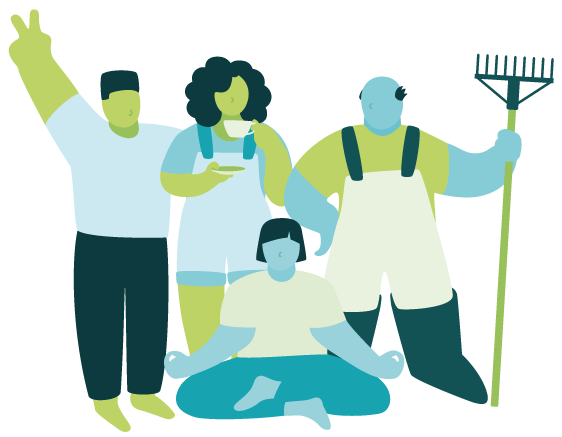 By Alan Karlik
The new Growing Connections toolkit was developed by members of the Capital Growth food growing network and brings together good practice in community gardening that helps people of all ages and backgrounds benefit from growing food.
The launch was initially delayed by the pandemic, but the team at Capital Growth feel that now is a crucial time for community gardens to incorporate these principles. "Some of the worst hit people during Covid-19 have been older and isolated members of our communities." commented Fiona McAllister, Capital Growth's Coordinator. "With gardens now starting to re-open and re-introduce volunteers people are seeing the real value of community gardening for positive mental health and a feeling of connectedness."
Capital Growth worked with 15 gardens to discover good practice, and also paired gardens with local food growing projects to learn from them, as well as recruiting a team of community leaders to form a Community Garden Group. The work has culminated in an easy to access guide, full of top tips from the gardens who took part and includes a simple tool designed for community gardens to baseline and monitor their progress in being inclusive.
There is also a short film to accompany guide that sums up the four principles for an age-friendly practice; be welcoming in everything you do; create a culture of care and respect; recognise that inclusivity does not mean your garden has to be perfect; and listen and be open to feedback
"Since I started volunteering in the allotment garden in Regent's Park, I could never have imagined not being there. And then lockdown. But now we are back and isn't it wonderful? I can breathe again...not something I get in a two roomed flat on the seventh floor" commented Jacky Erwteman on returning to volunteering at Regent's Park Allotment Garden after having to shield during lockdown.
Growing Connections was funded by the Centre for Ageing Better and DCMS through the Age-friendly and inclusive volunteering programme.
To find out how you could benefit and grow from volunteering in a Community Garden, check out inspiring messages from participants of the Growing Connections project, seen in the videos on our Growing Connections webpage.
Download the guide and self-review sheet here
Sustain would like to thank our funders, all the incredible people who volunteered their time and our inspirational partners:
Edible Landscapes London
Frendsbury Gardens
Friends of Grenville Gardens
Globe Community Food Garden
Hackney Herbal
St Mary's Secret Garden
Older Women's Co-Housing
Parkside Gardening Project
Queen Elizabeth Olympic Park
Spitalfields City Farm
Sydenham Garden
The Community Plot at Whetstone Allotments
Acknowledgements
This guide was developed with funding from the Centre for Ageing Better and the Department for Digital, Culture, Media & Sport, with the aim to make volunteering more age-friendly and inclusive, especially of people less likely to participate. Ageing Better is funded by an endowment from the National Lottery Community Fund.
Ready to connect with your Community Garden? You can find your nearest project in London or across the UK through our Good to Grow network
---
03/08/2020
Share
Get updates