London's edible gardens get ready to celebrate the harvest
Capital Growth invites London's community gardens to register with #UrbanHarvest2022 for a week of celebration between 11-18 September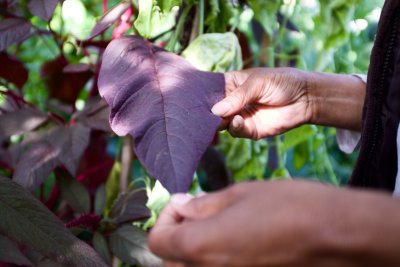 Black Rootz. Credit: Manal Massalha
This year marks Capital Growth's 13th annual Urban Harvest. So it's time for gardens to get planning their activities, open days, hands-on workshops and garden visits to celebrate London's harvest.
The theme for this year's festival is Climate and Nature Friendly Food Growing and one of the suggested activities for gardens is to host their very own Climate-friendly Community Meal.
Registration is now officially open and it couldn't be easier for gardens to get involved. All they have to do is:
Choose a date (or more!) between 11-18 September to host a harvest activity in their garden
Register with #UrbanHarvest2022 via their Capital Growth member dashboard by sharing some details about their planned activities.
Register your garden with Urban Harvest
Not already a member of Capital Growth? Join here
Once registered, gardens can take advantage of all the help available from the Capital Growth team including promotional support and activity ideas. They can also win some fabulous prizes by taking part in this year's festival competitions:
Best Climate-Friendly Community Meal
Best Harvest Action Shot
Heaviest pumpkin or squash!
Gardens are also invited to keep track of how much food they're growing, how much money they're saving and how much C02 they're saving by using our online tool - the Harvest-ometer!
Urban Harvest is a chance for London's community gardens to celebrate the harvest with their existing volunteers and local community. But also a great opportunity to open their doors to new visitors and highlight how important these urban food growing spaces are for people, climate and nature.
---
26/07/2022
Share
Get updates