London's community gardens keep up entrepreneurial spirit over the winter
Three gardens received match-funding support from Capital Growth for selling produce over the winter, bringing in over £1,000 to their projects
Despite dark days and long nights, Audacious Veg in Redbridge, Winn Project in Merton and St Patrick's Kitchen Garden in Tower Hamlets were busy this winter selling honey, harvesting salad and producing preserves for sale to support their projects. In the autumn, each group had applied for the Capital Growth Growing Enterprise Winter Matchfund, with the aim of supporting entrepreneurial gardens who keep up sale through the colder months.
For Audacious Veg, a social enterprise growing edible flowers, gourmet salad mixes and micro-herbs for London restaurants with local young adults who are facing barriers to employment, this was their first time maintaining production over the winter. As founder and head grower Natalie describes, "We sold salad and herbs to CropDrop (a veg box scheme in Haringey) and we also attended a social enterprise marketplace at City Hall. At the latter we sold bags of salad, and bundles of herbs. We learned a lot about how much salad we can produce in one polytunnel throughout the winter, and what perennials are able to be harvested in throughout the winter."
Rosemary of Winn Project spent the autumn making various types of chutneys and jams from damsons, apples and Victoria plums grown in her garden, which were then sold to The Table restaurant, Putney Food Assembly and local Christmas hampers.
Meanwhile, the beekeepers at St Patrick's Catholic Church Kitchen Garden in Wapping were busy selling over £600 of honey to local parishioners and residents. Garden coordinator Lance reported "We are pleased to say that jars of our honey have recently gone as far as Spain, France and Italy as presents. A jar of St Patrick's Raw Honey was presented to his Holiness Pope Francis as a gift last year!" The group harvested 240 jars of honey from three hives over the year, and the bees play an integral part in the project both financially and for the horticultural advantages.
Read more about Capital Growth's Growing Enterprise support.
Audacious Veg celebrates springtime after a winter's work in the polytunnel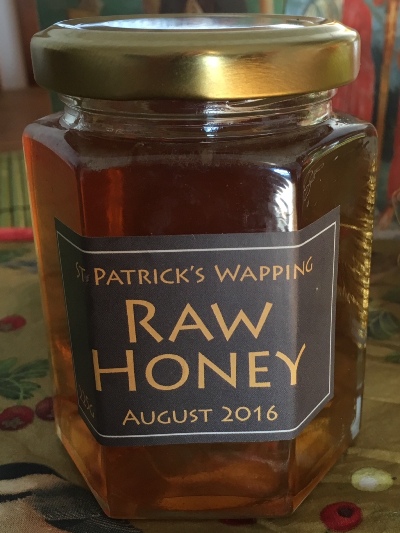 St Patrick's Kitchen Garden Honey
---
28/03/2017
Share
Get updates