London's food growing schools go to market at City Hall
On 13 October, Capital Growth ran a School Marketplace at City Hall for schools from across the capital to sell delicious fruit, vegetables, preserves and other treats from their school gardens.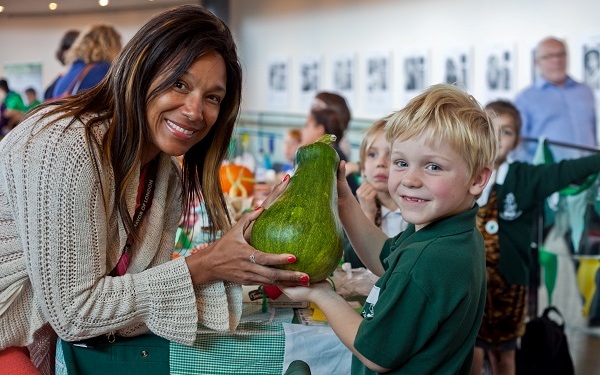 The day, run as part of Food Growing Schools London (FGSL) initiative, brought together primary, secondary and special schools to create a vibrant Marketplace that showcased the success and hard work of pupils in their gardens. Demonstrating their entrepreneurial spirit, students sold a wide variety of fresh and value-added products, including herb bunches, tomato salad, pumpkin chutney, dried seeds, fresh produce, raspberry jam and '5 a day' snack pots.
The Marketplace was complimented by Food Growing Schools: London Celebration Event taking place upstairs in London's Living Room, which launched the project's Interim Report (October 2016), showing the wide ranging benefits of food growing. There was also Junior Gardener's Question Time, chaired by former Blue Peter Gardener Chris Collins – with food growing questions answered by children from schools across London.
Marketplace schools took part in three competitions throughout the day: Best Dressed Stall, Most Enterprising Product and People's Choice. Judges from Capital Growth and Bulldog Tools were faced with a tough choice as each school had dedicated significant creativity, effort and attention to their Marketplace offerings.
In the end Rokesly Junior School was awarded Most Enterprising Product for their creative and ambitious use of pumpkins, and Holy Trinity C of E Primary School won Best Dressed Stall for their excellent table display. After tallying over a hundred votes, Kelvin Grove Primary School of Lewisham brought home the People's Choice Award. Bulldog Tools graciously donated a set of tools to each school garden, including a space, fork and two hand tools.
School Marketplace participants and competition prize winners:
Athelney Primary School, Lewisham
Charlton Park Academy, Greenwich
Dormers Wells High School, Ealing
Elmwood Primary School, Croydon
Holy Trinity C of E Primary School, Lewisham: Winners – 'Best Dressed Stall'
Kelvin Grove Primary School, Lewisham: Winners – 'People's Choice Award'
Reay Primary School, Lambeth
Rokesly Junior School, Haringey: Winners – 'Most Enterprising Product'
Rotherhithe Primary School, Southwark
Trafalgar Infant School, Richmond
Find out more about the support that Capital Growth provides schools on the website.
Photo: Jane Baker, Garden Organic
---
26/10/2016
Share
Get updates