Food Growing in schools
We work with several partners across the Capital to help all schools in London grow their own food.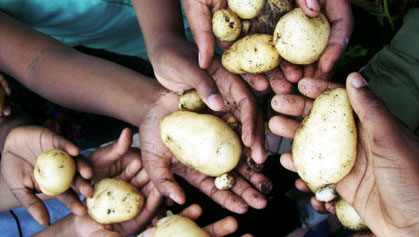 We are a network of all types of food growing spaces in London, and can signpost your school to local advice, training and events. We regularly run school-focused training and competitions, and joining is free. Capital Growth membership includes:
Growing Culture
Growing Culture: Celebrating London's past and future food growing heritage, will focus on the history of London's food growing and how this has contributed to the culture of families, communities and our city. The project will engage over 200 diverse people to explore the heritage of our movement and create a picture of the history of food growing in London, while building a vision of the future. Capital Growth will enable individuals, groups, schools and other Londoners, to share memories of food growing, through storytelling, maps, photos, records and by growing heritage variety crops.
We will work with four schools to explore past and recent history of food growing and bring to life stories of how food has been grown and traded in London, focusing on the last century. This will look at historical food production, allotment gardens, city farms and the explosion in community food gardens in the past 10 years, driven by our Capital Growth campaign.
Learning School Gardens
In 2018, Capital Growth ran a programme of food growing environmental education and support for teaching staff, targeting schools in Hackney and Tower Hamlets. The programme helped hundreds of pupils learn science, maths and environment studies through growing food.
Check out our Learning School Gardens page for more information
Spring into Growing 2019: Plan it. Build it. Grow it!
Start the new year afresh with a school garden fit for growing healthy food, learning skills and sharing knowledge, whatever the size or space. With our expert guidance, learn the secrets to planning and constructing your school garden, working with recycled materials and nature, and developing a productive growing space, with the help of your local community.
Discover tips and resources on the Food Growing Schools: London website:
How to: Plan your school garden - what to do now
How to: Construct your garden
How to: Work with nature in your garden
How to: Get help from your local community
Get growing today: Plan it. Build it. Grow it!
Capital Growth is a partner of Food Growing Schools: London, led by Garden Organic and funded by the Big Lottery and Mayor of London. The aim is to support every school in London to grow food and is supported by a range of organisations.
Share
Get updates
Menu
Support our work
Your donation will help communities grow more food in gardens across London.
Capital Growth is a project of Sustain: the alliance for better food and farming.