Capital Growth for schools
We work with Food Growing Schools: London to help all schools in London grow their own food.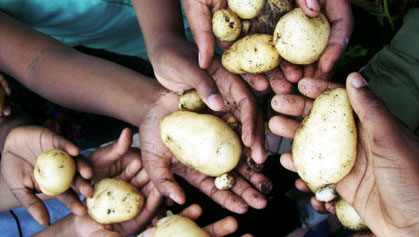 We are a network of all types of food growing spaces in London, and can signpost your school to local advice, training and events. We regularly run school-focused training and competitions, and joining is free. Capital Growth membership includes:
Learning School Gardens
In 2018, Capital Growth is running a programme of food growing environmental education and support for teaching staff, targeting schools in Hackney and Tower Hamlets. The programme will help hundreds of pupils learn science, maths and environment studies through growing food.
Check out our Learning School Gardens page for more information
Spring into Growing 2018: Plan it. Build it. Grow it!
Start the new year afresh with a school garden fit for growing healthy food, learning skills and sharing knowledge, whatever the size or space. With our expert guidance, learn the secrets to planning and constructing your school garden, working with recycled materials and nature, and developing a productive growing space, with the help of your local community.
Discover tips and resources on the Food Growing Schools: London website:
How to: Plan your school garden - what to do now
How to: Construct your garden
How to: Work with nature in your garden
How to: Get help from your local community
Get growing today: Plan it. Build it. Grow it!
Capital Growth is a partner of Food Growing Schools: London, led by Garden Organic and funded by the Big Lottery and Mayor of London. The aim is to support every school in London to grow food and is supported by a range of organisations.