The Allotment Gardens at The Royal Parks
Capital Growth works in partnership with The Royal Parks and Capel Manor who manage Regent's Park and Kensington Gardens allotments with support from a team of dedicated volunteers.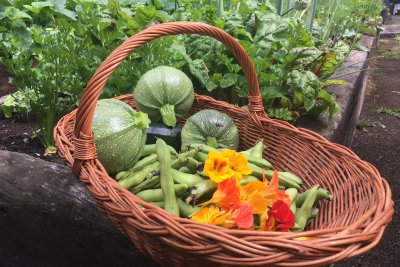 Basket with veggies. Credit: Sustain
Visiting the allotments
The gardens are open every day, including weekends. Information signs are dotted around the gardens explaining more about what we do and our growing techniques.
Regents Park: Open 8:30am-4:30pm. The garden is located at the corner of Chester Road and the Inner Circle in The Regent's Park. Click here for a map.
Kensington Gardens: Open 10:00am-4:30pm. The garden is located behind the Serpentine Sackler Gallery in Kensington Gardens (along Buck Hill Walk). Click here for a map.
School visits
We offer a limited number of free curriculum-linked sessions in the garden throughout the year. Please note that there is no covered area, so we are at the mercy of the weather. Get in touch with The Royal Parks Learning Team to find out more and book a visit with your pupils.
Volunteering
Interested in volunteering at one or both of the allotment gardens? You can register your interest via the Royal Parks Volunteer Hub. For any other questions relating to volunteering, please contact The Royal Parks Team.
Twilight gardening volunteer sessions
For a breath of fresh air, a cup of tea and a chance to meet new people and get your hands dirty, join us for our summer twilight gardening volunteer sessions. These sessions are open to everyone and no experience is required.
Summer 2022 twilight sessions are now finished. Check back with us here again for info about our Summer 2023 twlight programme.
Share
Get updates
Menu
Support our work
Your donation will help communities grow more food in gardens across London.
Capital Growth is a project of Sustain: the alliance for better food and farming.