Roots to Work
Connecting people with jobs, training and opportunities in the sustainable food sector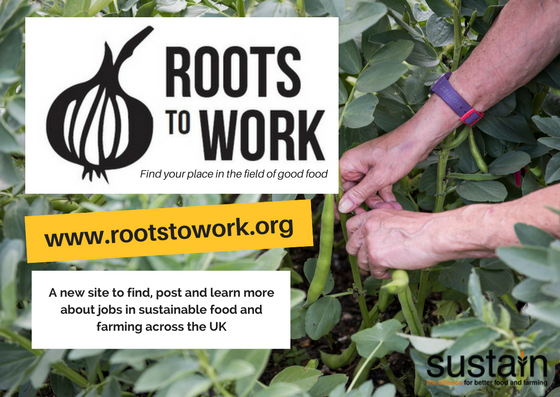 Roots to Work Conference
11am - 4pm
Thursday 18 October 2018
Oxo Tower Wharf, SE1 9PH
Book now to guarantee you place and workshop choice
We're back for a 4th year with our sell out Roots to Work conference, bringing together those already working and those looking to develop careers or enterprises in the food growing sector.
This year, thanks to the partnership with the Gaia Foundation and the We Feed the World exhibition, we are able to widen our focus to all those working or interested in finding their place in the field of good food. This means additional speakers and workshops on setting up good food enterprises, as well our popular sessions focused on launching and developing food growing enterprises. We will also have a chance to discuss how we support and grow the movement and enjoy the photography exhibition in the venue.
Who's this for?
This is for people working or looking to find work in the good food sector, this day of speakers, workshops and events will inspire and support you on your journey.
Tickets
Tickets are available on Eventbrite: £25 for Capital Growth members £20 for London Food Link paying supporters; £50 for the general public. We also have a limited number of bursaries available and run offers on social media. If you have any questions please contact chris.speirs@sustainweb.org.
Please visit our new site for a full list current vacancies
Take our short survey about work in the good food sector
Organisations and publications
Join the Capital Growth email list
Hear about events, training and news from London's largest food growing network.
Join us
Menu