Young growers create Schools Marketplace success
20 budding young growers from five schools took part in Capital Growth's School Marketplace at City Hall on 13th October 2017. The event gives London schools the opportunity to sell their produce, preserves, and other school garden goodies.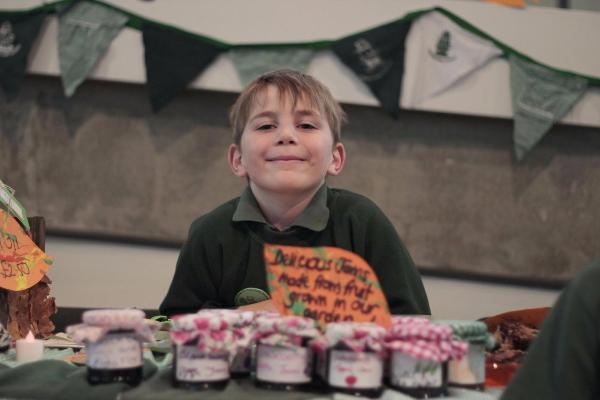 The event gave enthusiastic student entrepreneurs chance to set up shop in the Map Area of City Hall. Together they creatively dressed stalls to generate a lively market that showcased the efforts of their school gardens and food growing projects. The schools were rewarded for their hard work as each walked away with between £100 and £200 in earnings.
Three competitions were held throughout the day for Best Dressed Stall, Most Innovative Product, and People's Choice. The schools went all out in decorating their stalls and in coming up with unique products to sell, which made choosing winners especially difficult.
Ultimately, the panel of judges from Capital Growth, Food Growing Schools London - who supported the event - and City Hall named Spa School the winner of the Best Dressed Stall competition for their café-style display of beautiful quiches, cakes, and meringues. The Most Innovative Product went to Charlton Park Academy for their honey harvested directly from their school hives. Over 60 attendees voted in the People's Choice contest and though the race was extremely close, Trafalgar Infant School won the title.
We have been stall holders for the last 3 years and it is always such an amazing event for our 'young marketeers!' All our 5-7 year olds at Trafalgar Infant School help out in our growing space and the Marketplace is a fantastic opportunity for them to see the full cycle of growing, cooking and preparing produce and then selling it. They then see that the money raised goes back into our growing space to help make us self-sufficient. It was an extra bonus this year to be awarded the People's Choice for best stall. We are already planning for our Stall for the Summer 2018 School Marketplace" –Rachel Hutchins.
The 2017 School Marketplace participants were:
Charlton Park Academy, Greenwich
Good Shepherd Catholic Primary School, Croydon
Manorfield Primary School, Tower Hamlets
Spa School, Southwark
Trafalgar Infant School, Richmond
Find out more about the support that Capital Growth provides schools.
Photo: Adam Wright, Garden Organic
---
18/10/2017
Share
Get updates