St John's URC Community Garden
We couldn't think of a better garden to wrap up our Spotlight Garden programme with this November 2022 than St John's URC Community Garden in New Barnet managed by Wendy Alcock from Incredible Edible Barnet.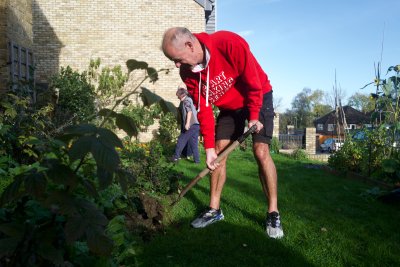 IEB volunteer Dave digging in at St Johns's URC Community Garden. Copyright: Manal Massalha
November 2022 Spotlight Garden - At a Glance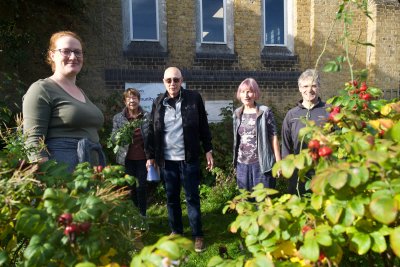 Garden name: St John's URC Community Garden
Garden location: Mowbray Road, New Barnet, EN5 1RH
Type of garden: Community Garden
Who's behind the garden: Incredible Edible Barnet (IEB) and St John's United Reformed Church
Garden mission: To increase the amount of food grown in public places for the community to share.
Who the garden serves: As a small group growing fruit, veg and edible flowers outside a church in New Barnet, we serve several audiences by:
showing food growers, old and new, what organic food growing can look like here and raise awareness of the environmental, nutritional & health benefits.
encouraging anyone in our community to pick the food grown on our plot while also growing food for our local food bank.
How you can get involved: You're welcome to join their volunteer sessions which take place on the 2nd and 4th Saturdays of every month from 10am-12pm (with a break in December & January).
Follow them on social media:
Sign up to their newsletter here for info about their activities and other local gardening events.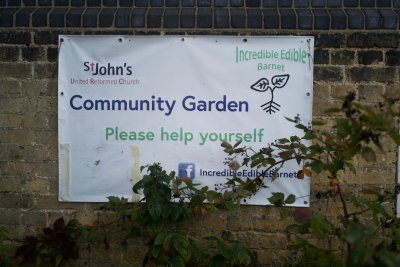 IEB loves talking about food! Growing, eating, wasting – it all gets chatted about as they tend their plot. What it means to eat seasonally, what it means to protect the soil and what it means for community to have food security. They believe small things really can make a better world when we grow together.
One of the reasons IEB wants to grow food in a public place is because they believe people have lost their relationship with food, where it comes from and its impact on the planet. Growing food in small pockets of land cities can offer great potential for bringing people together whilst also supporting the natural world.
Using spare land in their North London neighbourhood, a small group of people came together to show people what food looks and taste like. Their garden brings joy to anyone who passes by and even more to anyone who decides to get their hands dirty and wants to learn more about growing their own food.
With their volunteers, they always try to grow something new in the garden each year. Both to learn what will grow in their outdoor space but also to try and make the community garden, and food growing in general, more accessible to people from different backgrounds.
Barnet is a very multicultural place so IEB is keen to grow some culturally diverse food plants for people to harvest locally, and they've tried different plants over the years – from Amaranth to Tomatillo and lots in between. They're not always successful of course, but they're always willing to have a grow!
As the climate changes, different crops may fare better in the future, and IEB want to try some of the harder to grow plants again. Until then, they'll enjoy experimenting and learning what both the plants and local people prefer so they're ready to respond if needed.
Reflections on their open garden activities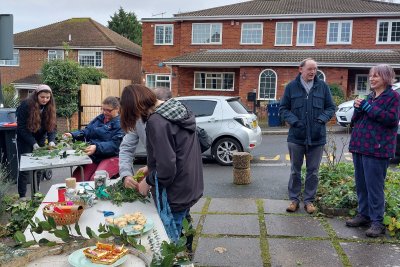 On Saturday 26 November, we joined our Spotlight Garden of the month, Incredible Edible Barnet, at their beautiful food growing plot on St John's URC grounds for a morning of getting crafty in the garden. Founding members Wendy and Heather, long time regulars, former volunteers who've moved on to plots of their own and motivated locals were all part of the crowd.
Teas in one hand and foraged garden greens in the other, we all got into making our own decorative wreaths complimenting each others crafty creations. It was a morning of welcomed warmth and community care in the outdoors that makes adjusting to the colder weather these days easier.
Some were decorating fruit trees and aromatic shrubs with baubles while others were demonstrating how to grow your own pea shoots from dried peas at home and making eco-friendly bird feeders with pine cones and hollowed surplus squashes sourced locally.
It was great to see everyone fully engaged and entertained in the garden, sharing life stories that weaved us all closer together as time went by. There is something deeply transformational about being part of a community garden as it knits together those involved while tending to nature. It's a practice of gratitude, for the land, its bounty as well as the present place and moment you may find yourself in.
The work that goes into maintaining such a valuable space mustn't be overlooked though as the people behind it are the reason this garden is still available for old volunteers to come back to and new ones to join. The beauty in that hard work is exactly what we witnessed through Incredible Edible Barnet last weekend. We wish people and projects like these always get the support they need and deserve to keep going cause they are a real lifeline for both people and our home planet.
Thank you to all for hosting us all with hot drinks, sweet treats and an infectious enthusiasm for food growing & gardening. If you're near to Barnet and looking for a local food growing community to connect with, be sure to sign up to Incredible Edible Barnet's newsletter and keep up with their activities. Trust us, you'll be very happy you did!
Want to find out more about Incredible Edible Barnet and St John's URC Community Garden? Visit their webpage or contact them here.
Share
Get updates
Support our work
Your donation will help communities grow more food in gardens across London.
Capital Growth is a project of Sustain: the alliance for better food and farming.