GROW
We're back with our Spotlight Garden programme and for February 2022 we're featuring GROW - a pretty epic market garden growing on land owned by the Totteridge Academy in Barnet, North London.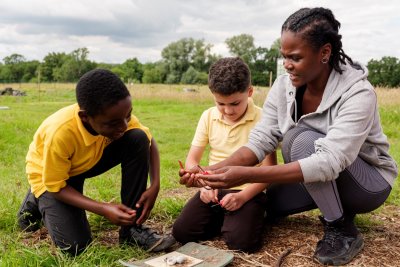 Decibel running an outdoor learning session with students. Copyright: GROW
---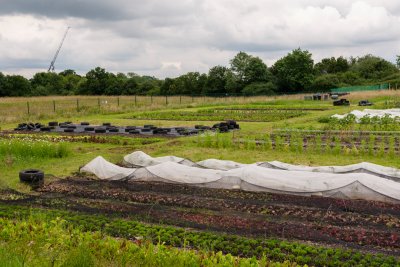 At the very end of the Northern Line, tucked away next to the secondary's school carpark lies an open green space six whole acres in size. This is GROW, quite the dream of a set-up alongside a school. At the centre of the plot is the growing market garden with a handful of polytunnels. In addition to this, the land is also home to some raised beds, a small patch of forest, a fire pit with a dedicated seated area, free-roaming chickens and a Mandala garden in the making. Oh, and a pizza oven should be on the way soon too!
GROW is a charity that doesn't receive any funding from the school but does get plenty of in-kind support through their partnership agreement. How did such a thing come about, you might ask? Well, it's a combination of connecting of the dots, knowing people in the right places and aligning intentions to do good. A fellow by the name of George Lamb (that many may remember from the telly!) is the founder of the project and has played a key role in getting things off the ground fast.
GROW are doing A LOT! While their focus is on foodgrowing and outdoor learning for kids who face barriers to learning, healthy living and employment, they run a veg box scheme that is currently supplying 20 families with hyper local and fresh produce. This year, they hope to scale up to 50 families and continue to sell what they grow at the farm gate with solidarity pricing keeping their pesticide-free produce accessible.
To make sure their work is as inclusive as possible, they run an after-school club for all their Year 7s as well as local primary school children and are soon to be kicking off with weekend #volunteering for local kids and families too.
While it seems GROW has literally been growing fast, they've had to adapt to changes through the trials and errors in its earliest stages just as swiftly to get to where the project is now.

---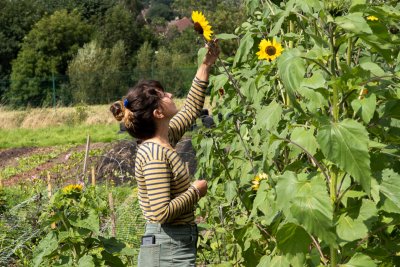 Sarah Alun-Jones has been with GROW right from its inception. As someone with nearly ten years of food growing experience, she's the first to say this project has been a on learning curve since day one since starting under three years ago. This is what you expect when breaking new ground to make the link between food growing and education more commonplace.

During GROW's earlier years, their work was very much about bringing food growing and outdoor learning into the school curriculum. While it was incredibly rewarding to see students respond with great enthusiasm around the practical learnings that tied into their theoretical teachings of science and food tech, the work required to be an official part of the curriculum was too much for a project of their size.
As a champion of agroecology and its holistic approach to connecting with nature, Sarah shares those important first lessons learnt meant GROW needed to peel it back and focus on where they could make the biggest difference right now. This is by providing students with additional support needs a more hands-on approach through outdoor learning. While the project continues to grow, they look forward to increasing their capacity for what more they can offer as things progress.
For example, Grow Cook Share is a newly funded project set to start in April with families without access to green spaces to help them learn about food growing and how to make healthy meals based on the fresh produce harvested.
The team has big plans for the rest of the land but are up against red tape around the type of constructions allowed on the site seeing as they're right on Green Belt -- a more legally restricted zone around the city. They're also right next to council-owned land where an Equine Therapy project is due to set up soon. GROW is hoping to make the most of their hoofed neighbours' manure for a circular link to natural fertilisers.
It's only a matter of time before other schools with idle land will start to follow GROW's lead and make outdoor learning a key part of the student learning experience. It's a missing link that benefits us all!
---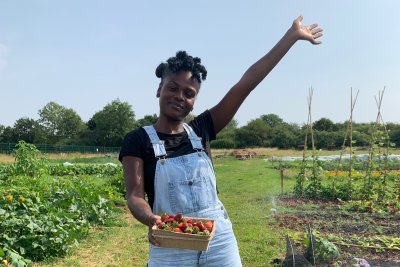 When Decibel first stepped onto GROW's site during her interview for the Outdoor Learning Facilitator post in late 2018, it was still untouched land. Sarah-Alun Jones had taken her around the plot to share the project's big vision and next steps. It was clear to Decibel the team meant serious business and when she started as GROW's first official employee a few months later, everything Sarah mentioned they were to put in place was ready. It was now time for Decibel to bring her talent and experience in connecting kids with food growing through outdoor learning to the mix.
Decibel got into food growing back when her son was still a toddler and she began volunteering at community gardens with him by her side. It gave her peace in a busy city where most people don't have access to gardens. It's also where Decibel first encountered permaculture and it immediately caught her interest. She went home to read more about the topic online and realised permaculture principles were everything she had come to love about food growing & gardening.
Shortly after that, she signed up to a permaculture course and later upskilled further with an accredited horticultural training to seize the job opportunities she was finding. She quickly realised community growing spaces were some of the very few places that would welcome the package deal of her and her son. Without access to childcare support, Decibel needed to work that would accommodate such critical needs. One of the projects that warmly welcomed them both was May Project Gardens along with other youth clubs in South London.
Decibel says she never imagined what she now does for a living was a job option when she first started more than 6 years ago now -- particularly as a member of the Black community in the UK. Today, alongside her work with GROW, she shares her passion for outdoor youth learning with other schools and community groups across the city. For her, the most rewarding part of the job is being able to provide opportunities for city kids to understand where their food comes from as these are critical skills for their future!

---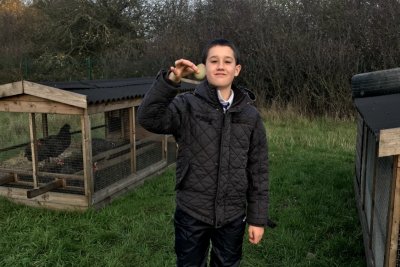 Meet Neo, a Year 9 student at the Totteridge Academy who's been going to our Spotlight Garden GROW since it first started up in 2019. His main and much-loved activity on the peri-urban farm is helping with the chickens. He's a real pro with the feathered friends and one of the very few people who can tell the chickens apart. He loves animals, always has, and happily spends his Wednesday afternoons cleaning out the chicken coop, feeding them and even giving them medicine whenever needed after school.
Sometimes, he'll just sit with the chickens to observe them and see if his reading up on animal behaviour theory rings true. In fact, he's hoping to become a vet surgeon one day so having quality time with animals on site deeply nurtures those aspirations in him. He also finds spending time with them to be very therapeutic given the moments of calm he gets to indulge in on the farm.
It's not just about the chickens for Neo, as he also gets to take part in the food growing activities at the farm. That's everything from sowing seeds and caring for plantings in the polytunnels until they're big enough to be planted in the outdoor market garden. Ever since a friend gave him some seeds, he also practices his food growing skills at home. In his family's back garden, they grow all sorts from tomatoes to runner beans and courgettes too. Neo says that he can definitely taste the difference between foods he's helped grow and supermarket bought fare. Needless to say, the former taste better!
When GROW was experimenting with integrating the school curriculum, they ran a series of Forest School like activities to help pupils connect with nature and build confidence by learning wilderness survival skills. Through this, Neo learnt how to start a fire (for roasting marshmallows!) and make bird feeders or bug hotels with natural materials.
The advantages of having regular time in an outdoor learning space like GROW is not limited to the students. Neo's dad, John, also enjoys lending a handing onsite during their adult volunteer sessions. It's clear to see that everyone can benefit from schools being linked with food growing spaces.
Want to find out more about GROW? Visit their webpage or contact them here.
Share
Get updates
Support our work
Your donation will help communities grow more food in gardens across London.
Capital Growth is a project of Sustain: the alliance for better food and farming.