Coco Collective - Ital Community Garden
May 2022 takes our Spotlight Garden programme to Lewisham in South London to bring you the story of an Afro-diaspora led community garden that was born through the pandemic.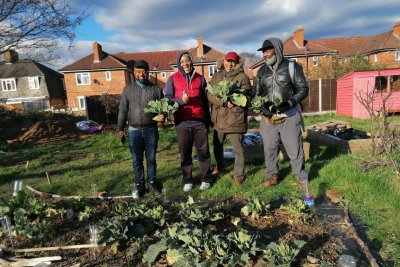 Autumn at Coco Collective's Ital Community Garden. Copyright: Coco Collective
---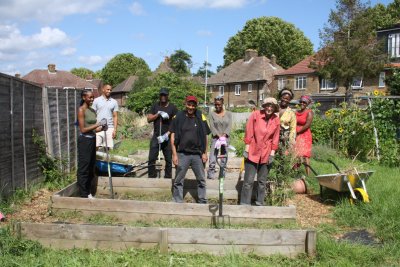 Covid changed things for a lot of people, if not everyone. This was most definitely the case for our May 2022 Spotlight Garden – Coco Collective's Ital Community Garden – an Afro-diaspora led food growing space in Lewisham born through the pandemic.
On a quiet residential street, an iron gate lined with colourful bunting is a sign that good things grow beyond it. When you enter, a short path leads you up to the central space made up of a large, circular grassy patch with planting beds, a picnic table & benches dotted around it. A prime spot for people to gather in community and share knowledge, experience and delicious food.
Ital is a word associated with Rastafarian religion that has its roots in Jamaica, common in Afro-Caribbean culture. It's understood to come from the word 'vital' and refers to natural food grown in local land by organic means to feed people holistically.
The Ital Community Garden is open to everyone on Wednesdays and Sundays from 9.30am-4pm, which are recently extended timings thanks to a new-hired lead grower. The local community was rallied together by the founder, Valerie Goode, began with lots of events to bring people together when it first opened in June 2021. We'd already been through three lockdowns by that point and the need for people to come together in nature was palpable.
Cooking, music, dancing, spoken word – you name it – all such creative juices were flowing during their inaugural community events while people of all ages and walks of life took to clearing the council-owned allotment that had become overrun with brambles. It wasn't until they got to see the ground beneath that they were pleasantly surprised to find growing beds already in place. The abundant sunshine was an added plus.
To this day, there are still a few plots that are being used by individuals, but most of the land was derelict for a long time. Such a shame when you think about the 5 or 10-year long waitlist times for allotment plots people are discouraged by across London. The opportunity to share this land and start to build a legacy for the local community has been a timely blessing.
---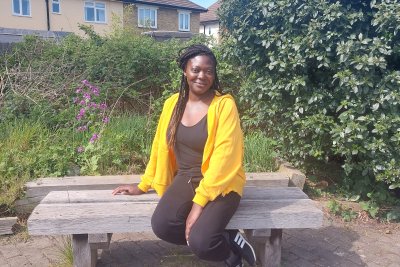 Behind Coco Collective's Ital Community Garden is an entire community that is growing week-on-week. Though the garden wouldn't have come to be if it weren't for the driving force of one person. Meet Valerie Goode, founder of Coco Collective and its flourishing community AND garden.
Valerie's drive is second nature thanks to her entrepreneurial spirit. Having worked for 15 years in sustainable and ethical fashion internationally – she's the first to admit that industry isn't perfect but she learnt a lot along the way. When the pandemic hit and people were confined to their homes, Valerie had no choice but to stop too. It sparked a period of personal and professional reflection during which all paths kept calling her to reconnect with the land and dive deeper into her rich ancestral knowledge. Her mum is also finding much joy while working with her daughter in building this communal legacy from the ground up.
Food growing is new for Valerie and the learning curve is real. While her self-starter attitude is what has helped get things off the ground, she's undergoing an important shift in mindset. At first, she was very much focussed on getting the structures in place and keeping everything on tempo with the initial work plan. But her grounding force of a team is teaching her to work alongside nature. They came together through the first community events and the team has been growing since. In fact, they recently hired their very first lead grower who's been playing a key role in building up the community's understanding that nature is the boss.
The site sees an abundance of sunlight all throughout the day, so Valerie has no doubt that once the groundwork has been laid and the food growing properly gets underway again, the Ital Community Garden will be absolutely thriving!
That said, there's still more work than there are hands for at the moment and would love for more to join in to help and enjoy the journey together.
---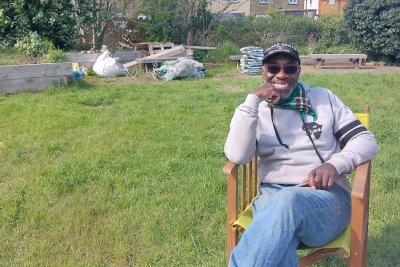 A key ingredient of a thriving community food garden is making sure a variety of skills are on site. Bringing the practical food growing skills and experience to our Coco Collective's Ital Community Garden is Duke Baysee. Name sound familiar? It will if you're a fan of the 90s hit single 'Sugar Sugar'. If you're humming the tune as you read this, you'll be pleased to know this is the very same Duke Baysee signed by Simon Cowell.
Music has always been a big part of his life. Even when he was a late night conductor on London's 38 bus route. You could find him with his harmonica bringing a sweet melody into everything he did. Food growing is his second love and before he was professionally trained with Organiclea, he was shown how to grow by the Windrush generation.
Nowadays, Duke splits his time between Coco Collective, Ubele's Black Rootz (our October 2021 Spotlight Garden, remember?) and his own allotment in North London. At the Ital Community Garden, he's in charge of bringing the garden design plans to life which is he already in full-swing with.
As the most recent addition to the team, his presence has meant the garden has been able to extend its opening hours on Wednesdays and Sundays from 12-4pm to open at 9.30am. This is a most essential update with the new growing season upon us and there being plenty to do. It's also very timely as the better weather season has people wanting to spend more time outdoors.
Before the garden gates open, Duke starts the day with a libation. This offering to honour the earth and those that have come before us is an age-old practice found in many cultures across the world, taking on different forms of ritual. For Duke, this means pouring water onto the soil and calling on the spirits of the best gardeners he knows to help him in his work on the land. Who is it he calls on? His father and his grandfather, whom he learnt so much about food growing and life in general from.
Duke's also leading on the Better Mental Health workshop series repeating every month from May till October 2022 sharing how to grow culturally diverse foods at home.
---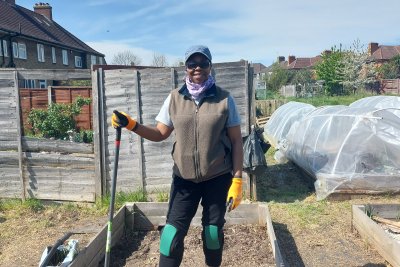 It's the people at Coco Collective's Ital Community Garden that are breathing life into it. The Afro-diaspora led garden has already attracted so many different people from all walks of life. Former social worker turned gardener, Sonia, is a great example of this.
Her path to gardening started years back on a free 2-week course run by her local council. She enjoyed it so much, that she registered for month-long course with Capel Manor at Crystal Palace Park shortly after. Once she completed it, she knew it was time to leave her job as a social worker to become a gardener. As rewarding as the work had been, she was disillusioned by a system that isn't working for those who need it the most.
After a year out to recover from burnout and finding healing through working with the land, Sonia says garden work feels like a much more balanced form of social work. It provides a space for people to feel comfortable with who they are, grow what they know and want to eat, connect and learn with others.
You'd be surprised by how few places there are in London where you can learn how to grow heritage foods such as scotch bonnets, okra and sweet potato.
It's also a chance to pick up new skills that can provide more job prospects. Gardening as a career path hasn't yet become mainstream thinking even though it's a skill you can carry with you everywhere you go that will always have value.
Sonia would love to work with children's homes to share the therapeutic benefits of gardening. This is why it makes her happy to see families come to the garden with their young ones as she believes this activity has the potential to change our collective perception of food growing.
How did Sonia come to discover the Ital garden? Pauline Shakespeare who works with Ubele's Black Rootz and Land In Our Names (LION) on the Rootz into Food Growing project put her in touch with founder Valerie Goode. For Sonia, the best thing is having such a place close to home and has been a regular volunteer since. She's also facilitating the Better Mental Health workshops alongside lead grower, Duke.
---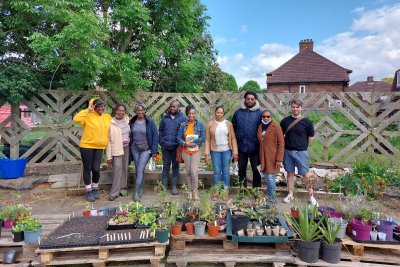 On Sunday 29 May 2022, we were at Coco Collective's Ital Community Garden for their open day. It was a great day that really highlighted the meaning of community for us. The weather even held up for the most part too!
In a city that is renowned for its anonymity, it's hard to feel a real sense of community. It takes time to build and some may even be here for years without having found a space where they feel like they can belong or just be themselves -- and be appreciated for it. Community gardens don't just grow food either, they grow connections too. Connection between people or plants and also between both people and plants.
It was such a lovely turn out at the Ital Community Garden. We might not have known everyone's name when we first arrived, but by the end of the day we sure did. It's something as easy as weeding a planting bed or filling up the watering cans that brings people together in these spaces.
It's Ray turning over the soil to help with getting rid of persisting bindweed, Comfort bringing food scraps to the compost pile, Darren asking if we need kneelers, Ariel showing us a nifty weeding technique, Carmen serving us up a delicious home cooked curry or Pat sharing how she's been a vegan for three years and never felt better for it.
These are just some of the friendly people that come to the Ital Community Garden regularly and bond over building a budding community garden together. On any given open day, you'll find them there along with founder Valerie warmly welcoming everyone onto the site and buzzing with new ideas. Her mum is sweetly helping to keep everything in order in the background too.
Everyone is always welcome to join them there and get stuck in with gardening tasks on Wednesdays and Sundays, 9.30am-4pm. On June 19 this year, they celebrate their first-year anniversary, so be sure to give them a follow so you can keep up with their news and progress.
Want to find out more about Coco Collective and Ital Community Garden? Visit their webpage or contact them here.
Share
Get updates
Support our work
Your donation will help communities grow more food in gardens across London.
Capital Growth is a project of Sustain: the alliance for better food and farming.