Black Rootz
We're excited to be shining a light on this North London project as our October 2021 Spotlight Garden – meet Black Rootz at Wolves Lane Horticultural Centre in Haringey. A growing project that sprouted in Spring 2019 from the Black cultural powerhouse that is Ubele Initiative.
---
Black Rootz | An introduction to the space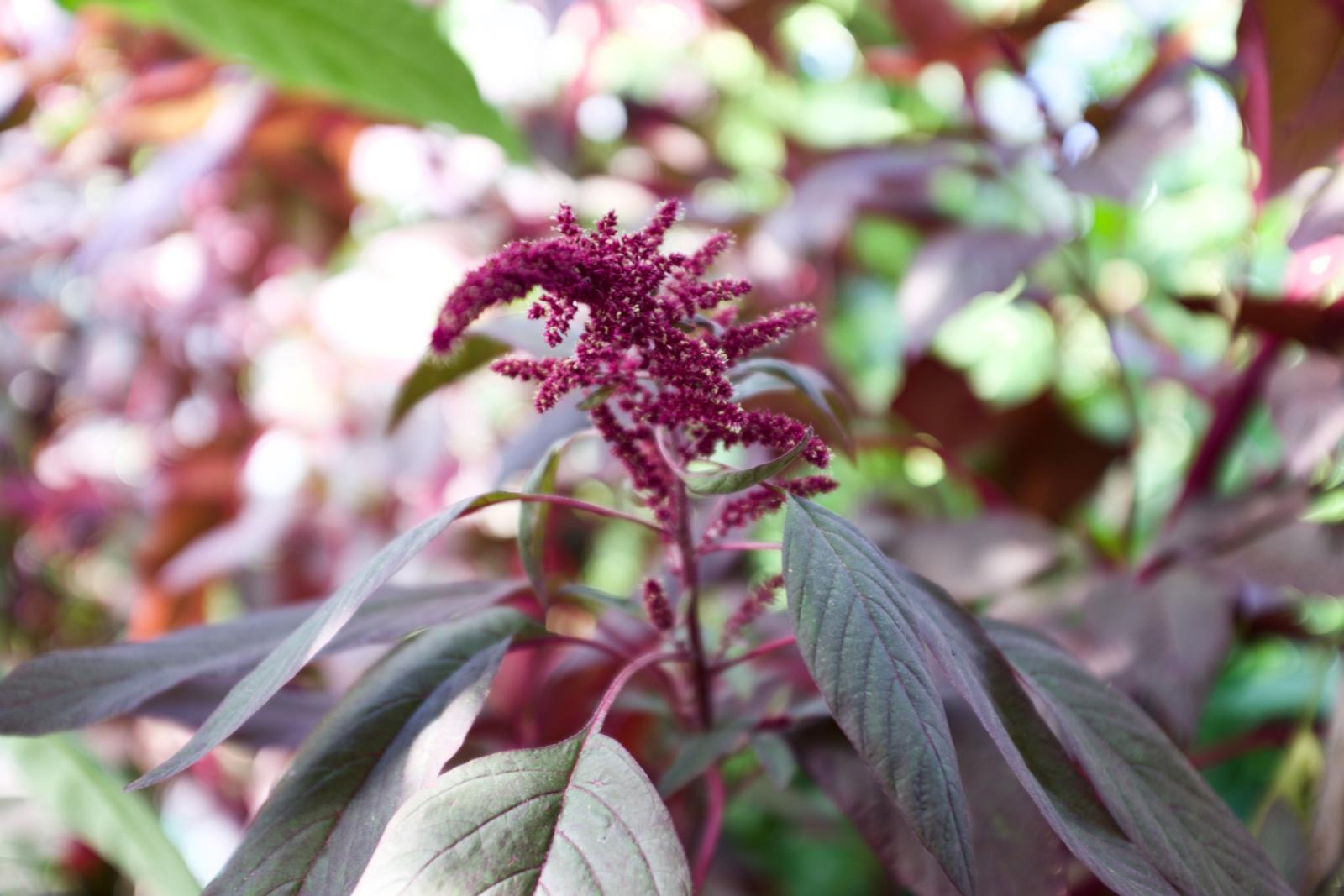 The Wolves Lane centre is a council-owned shared space made up mostly of long green houses where a handful of different projects are growing food or flowers commercially. There's even a bit of woodland and some outdoor growing space for fruit trees and ornamental flowers too. Plus, the café cooks up delicious food made using the hyper-local produce grown on site. It's an absolute grower's gem that side of town and Black Rootz helped the local community find a home there through the organisation of an epic Windrush Food Fest to celebrate and honour the Windrush Generation in June 2019.
Black Rootz is the first black-lead growing enterprise in the UK, with an extra emphasis on enterprise. This multigenerational food growing initiative means serious business for the entire community. Food plays a major role because growing your own means you can harvest the freshness and flavours you don't just like but that are important to your sense of self. While growing on an informal basis and cultivating a strong connection to the land to keep in good health is an integral part of black culture worldwide, Black Rootz wants to grow us out of the hobbyist mentality and remind the community just how much collective wealth they generate by investing in their own health (and the environment!). They also seek to highlight the essentiality of that wealth being within reach of the hands that cultivated it.
Given that the intergenerational culture magnifies the skills, knowledge and experience shared, you can imagine just how far a community with these kinds of assets could go if they didn't have the odds systemically and systematically stacked against them. Black Rootz is where food growing, cultural wellbeing and self-determination come to fruition.
---
A co-founder's perspective | Paulette Henry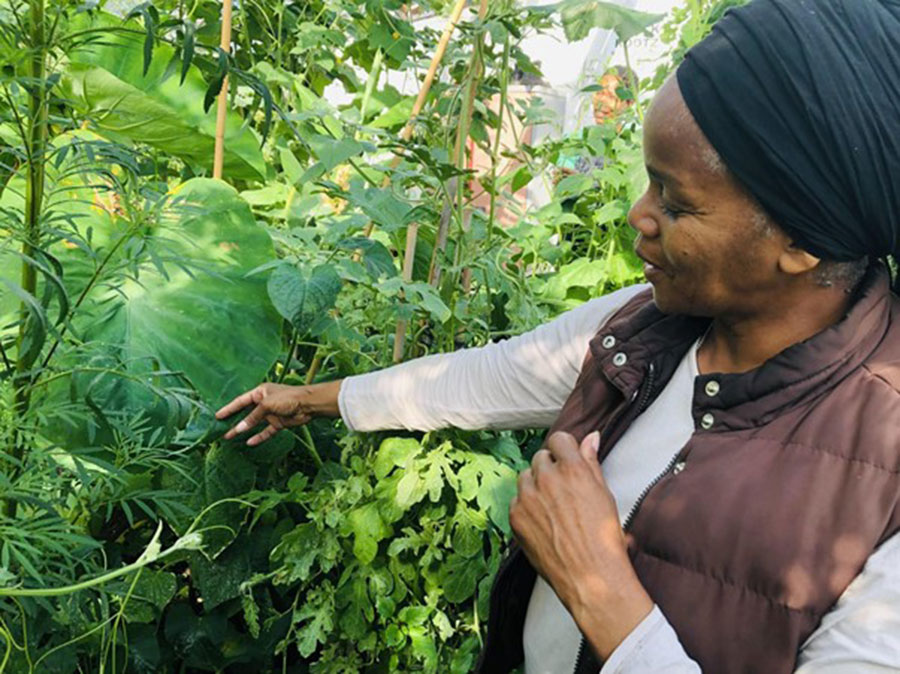 When you start growing your own food, it's highly unlikely you'll stop. And when you've been surrounded by food growers from birth and generations before you, that's when you know it's in you. This was very much the case for Paulette Henry, Master Grower at Black Rootz – our October Spotlight Garden.
Back in Jamaica, Paulette's Grandad was a commercial farmer growing everything from the likes of coffee and cucumbers to even keeping bees. So when her Father came to the UK, it was only natural he was growing his own food for his family on an allotment. Paulette had her hands in the soil from a very young age. Barring a hiatus during her teenage years, she got back to into food growing most seriously in 2008 when she'd began training up with Living Under One Sun in Tottenham alongside starting Tourmaline Urban Gardens.
By 2012, Paulette had taken on a Master Gardeners course and connected with an incredible mentor who, to this day, serves as inspiration for how food growing is a lifestyle and attainable in London. All the while, Paulette had supported many food growing groups and was previously connected with the growing space and people at Wolves Lane before Black Rootz was born.
It wasn't until Haringey Council launched an open call for proposals on what to do with the space given they could no longer afford to manage it in 2018 that a few food growing initiatives came forward. The Ubele Initiative joined the conversations recognising that there was also a need for better representation of the Black community in this. In March 2019, the first meeting was called with people coming from all parts of London when word got out about the idea for creating a space for Black leadership in commercial food growing there.
Conversations around the importance of creating a safe space for a community that is often marginalised and subject to racial bias and the need for supporting their elders while making sure all their knowledge and skills were not lost all happened there. It was clear to everyone that the space was more than needed, but when the question of who would coordinate such a thing, the room felt silent. That's when Paulette knew it was her time to step into this leadership role and make it happen.
---
Reflections on our in-person training session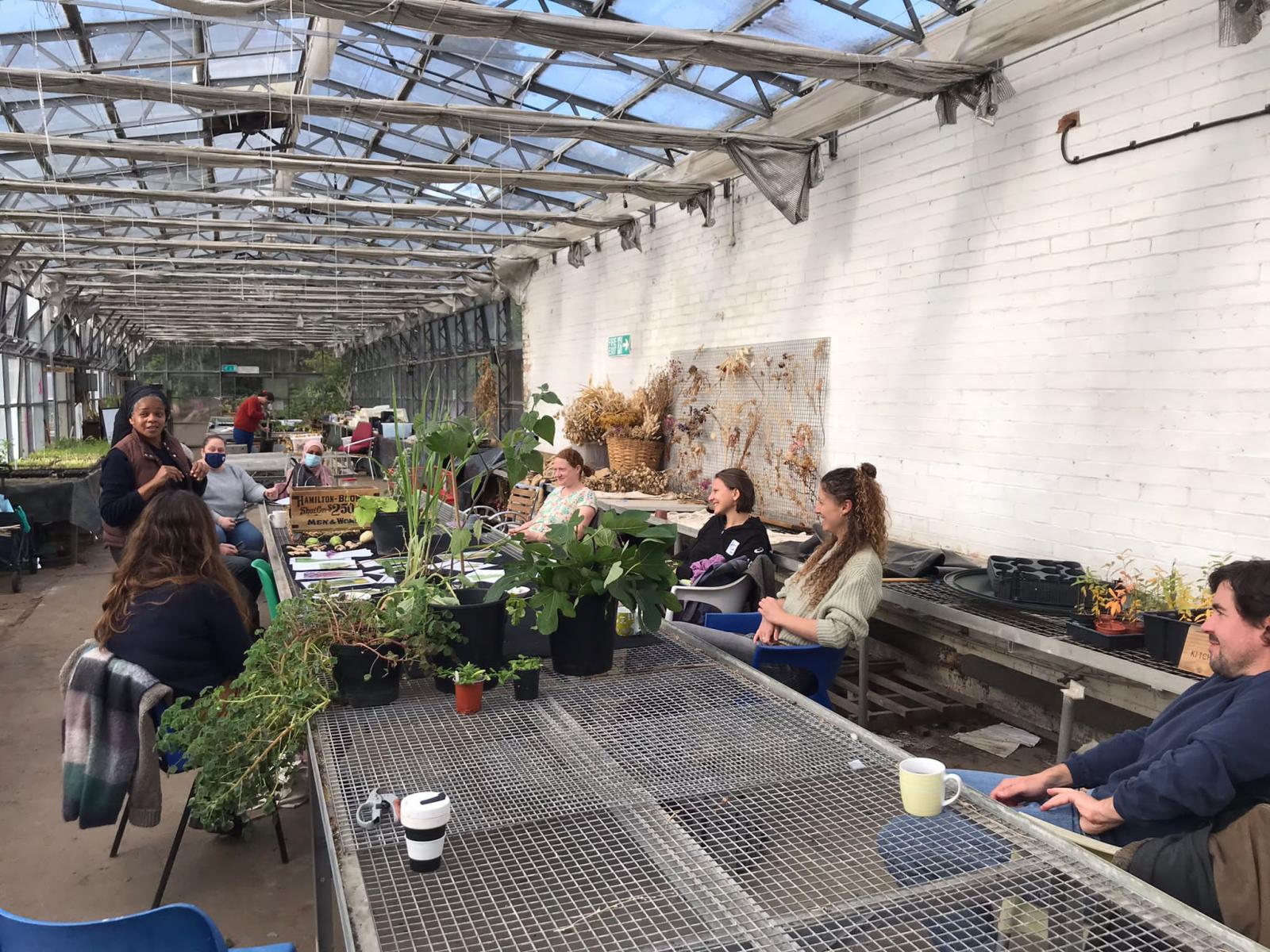 On Sunday 24 October, we co-hosted our very first in-person training since lockdown last year. It was an extra special affair given that it took place at our October Spotlight Garden, Black Rootz, with the initiative's coordinator, Paulette Henry. We had such a great time!
Not only did we realise first-hand just how much we miss being and learning with you all in person, but we were blown away by the immense knowledge and passion Paulette shared in her training session. We also found that in these more uncertain pandemic times, a smaller group meant there was enough space for everyone to participate in whichever way was most comfortable for each person.
Aside from the tour of Black Rootz's growing space and the introduction to all the different incredible foods being grown there, Paulette even had some chayote (look up this highly nutritious crop!) prepared in a variety of ways for us to sample. We got to try tiger nut, oca, Jamaican thyme and plenty more. It was a feast for all our senses and really insightful to dive into the many ways these foods are used and eaten in different parts of the world. It all comes together to be cared for and celebrated in London at the Wolves Lane Centre thanks to Ubele Initiative's Black Rootz.
Thank you for having us and sharing your growing wisdom, Paulette! We also really appreciated the great nutritional tips on sprouting.
---
A partner's perspective | Pauline Shakespeare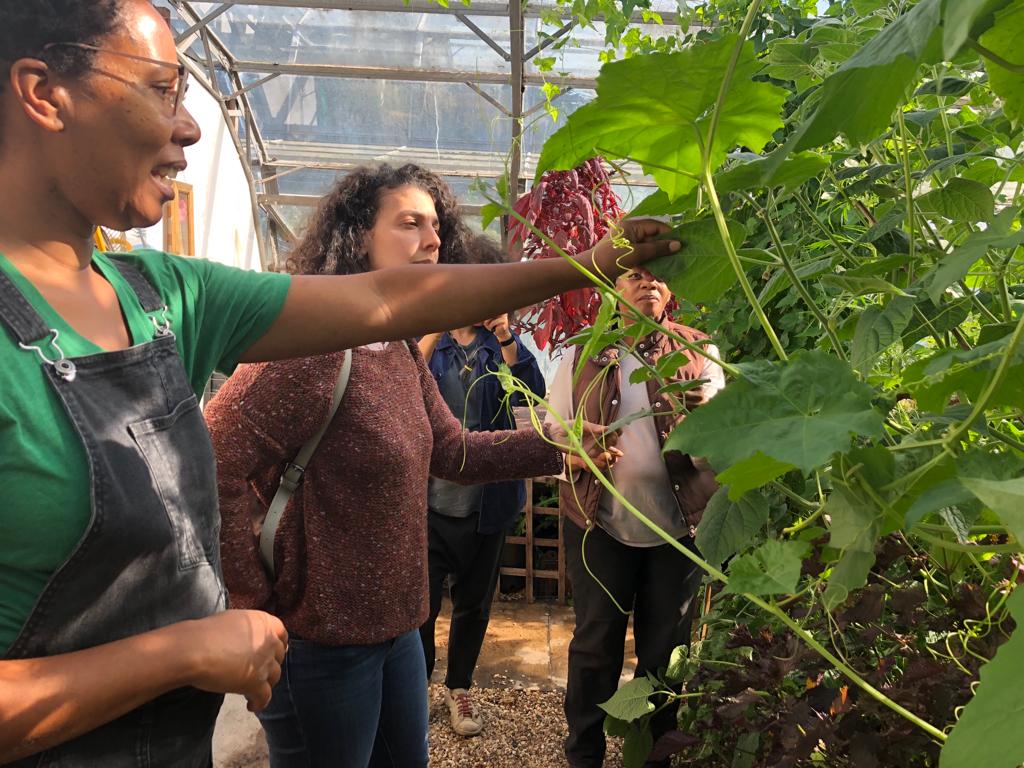 Community gardens aren't just where people come together to cultivate food and flowers. They're where collective healing and social justice movements bloom and grow too. A great example of this is Rootz into Food Growing (RiFG) -- a project aimed at challenging and disrupting some of the structural inequalities that exist within the current peri-urban food growing sector in London. The project aims to build a network of Black and Minoritised led growers across the city who will receive relevant skills development and training opportunities enabling them to grow commercially. RiFG is a collaboration project between this month's Spotlight Garden Black Rootz, Ubele Initiative, OrganicLea, Land In Our Names (LION) and is funded by Farming The Future.
Following the publication of the RiFG research report, project coordinator, Pauline Shakespeare (on the left in photo above) has since been busy consulting with other organisations to map out a series of interventions to support and empower BPOC growers, in order to lay the foundations for funded, systemic change. The former project manager with 15 years' experience in the charity sector including managing innovation programmes for universities, local authorities and central government came to the project, bringing her past experience and a user centred design approach. The project put Pauline on a journey of discovering peri-urban food growing, agroecology and activism in land justice through her conversations with the many growers and enterprises she's visited and interviewed.
Her support and mentorship of Black Rootz at the Wolves Lane Horticultural Centre in Haringey through the RiFG project is linked to an exploration of cultural identity, enterprise, training, community wealth building and heritage at a time when systemic change is more palpable than ever. There is no shortage of work to be done in creating long term, sustainable livelihoods for the BPOC community in horticulture, food growing and science. In addition to her project partners, Pauline is working with Capital Growth and Shared Assets to make this a reality. Read the RiFG report here.
---
A volunteer's perspective | James Simpson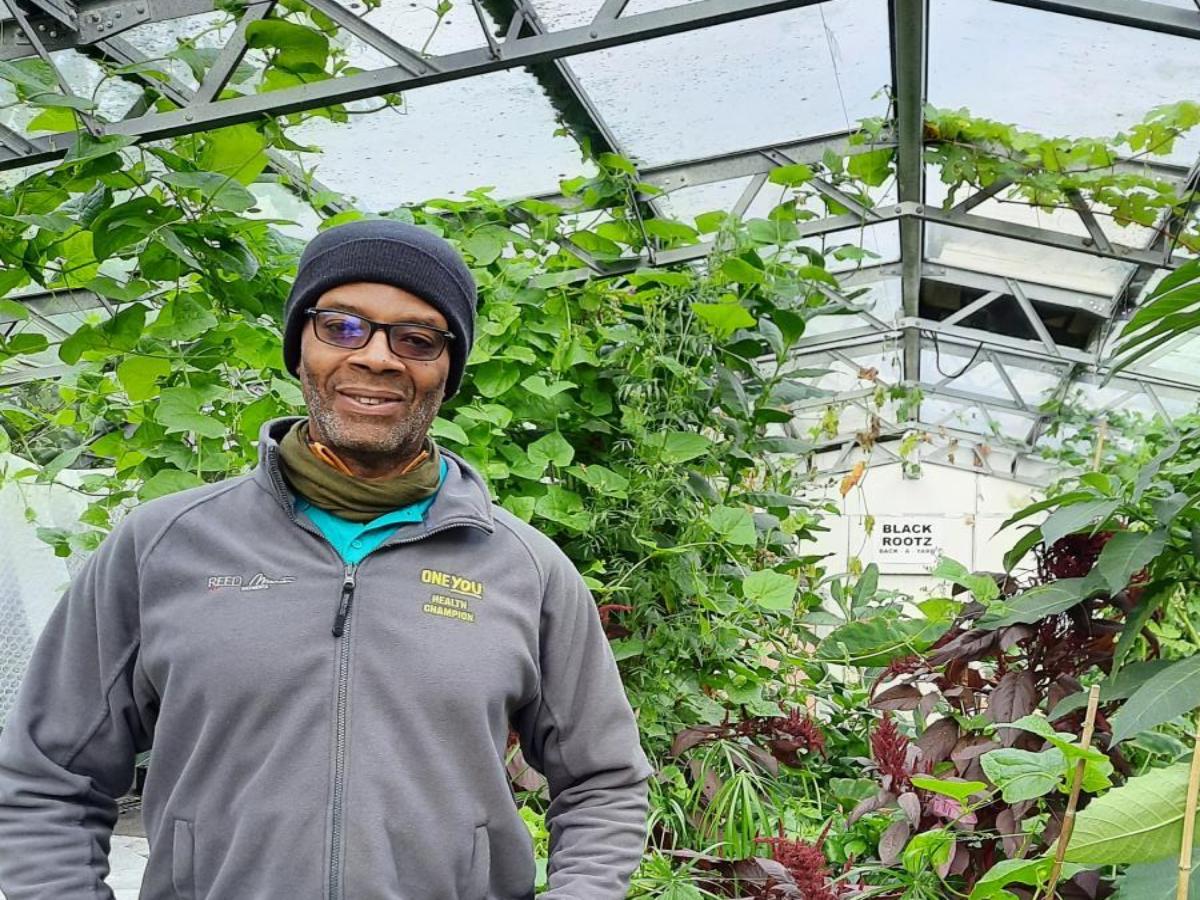 What does Black Rootz mean to a volunteer? Newbie gardener, James Simpson, shares that he first came across this month's Spotlight Garden two years ago. He'd come to the Wolves Lane Horticultural Centre for a meeting related to another community project and was delighted to discover Ubele Initiative's Black Rootz starting up there too. That was just before the pandemic and the sudden lockdown meant his volunteering start with the Black-lead growing enterprise would be delayed until May 2021.
James, a retiree since 2016, was born in Hackney and raised in Tottenham. His parents both came over from Jamaica and met in East London. Their family home was never complete without food growing in the back garden. James still cherishes the moments he had working with his Dad on their food garden as a child. It was how they got their father-son quality time in.
While James' professional career was in social housing, it wasn't until he retired that he realised food growing was missing in his life and wanted to reconnect. He'd come up with a plan – work part-time at a charity that aligned with his passion for promoting physical and mental wellbeing, volunteer with other similar projects and spend more time hiking. He's done just that – he works part-time with Mind In Haringey and volunteers at One You Haringey, Silverfit and Black Rootz.
It's his time with Black Rootz that is really feeding his desire to learn more about plants, how they grow and why they behave the way they do. He's also plant-based, so volunteering alongside Paulette Henry, has put him right by an incredible source of skill and knowledge for growing and nutrition. He's very grateful for Paulette's generosity in sharing it all with him.
He feels like he's still at the very beginning of reconnecting with his own food growing journey and couldn't be happier doing so with Black Rootz. Watching food grow and tending to the plants are continuous lessons on patience that is highly therapeutic. He's come to realise that caring for plants is in fact caring for ourselves. Wise words from a wise man on a food growing journey to healing.
Want to find out more about Black Rootz? Visit their webpage, follow them on Instagram or contact them here.
Share
Get updates
Menu
Support our work
Your donation will help communities grow more food in gardens across London.
Capital Growth is a project of Sustain: the alliance for better food and farming.