Urban Harvest
Between 15-22 September, Capital Growth is inviting gardens across London to open their doors to volunteers and members of the public for our 14th annual Urban Harvest.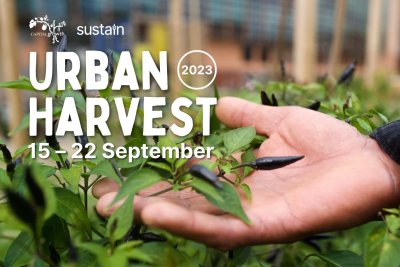 Black chillies growing at Global Generation's Story Garden. Copyright: Manal Massalha
Urban Harvest is a great way for London's food growing communities to come together and celebrate the harvest. There's lots to celebrate – from the wonderful food grown in these community growing spaces to the diversity of people and volunteers involved in making these spaces flourish.
Our annual theme is 'Climate and Nature Friendly Food Growing' and we're inviting gardens to organise a Climate-Friendly Community Meal.
We encourage gardens to take part in #UrbanHarvest2023 by opening their garden to new visitors and volunteers through running an activity or event such as a seed swap, a harvest activity or a hands-on workshop. Why not take inspiration from the Sustainable Food Places low carbon lunch idea?
To register to take part in this year's festivities, all you have to do is make sure you're a Capital Growth growing space member and have a think about what kind of activity or event you'd like to run in your garden. Not already a member? Join Capital Growth for free now!
Once registered, you'll have access to all our useful resources and materials to help you plan your open day or activity.
This year participating gardens will have the chance to take part in our #UrbanHarvest2023 competitions (deadline for submissions is Monday 2 October) to win some amazing prizes:
Best Climate-Friendly Community Meal
Best Harvest Action Shot
Heaviest pumpkin or squash!
Did you know we've updated our Harvest-ometer? Now you can find out how much C02 your garden is saving by growing your own compared to buying the same produce from the supermarket!
Track how much your garden is growing
Find out which gardens are participating in #UrbanHarvest2023
Share
Get updates
Menu
Support our work
Your donation will help communities grow more food in gardens across London.
Capital Growth is a project of Sustain: the alliance for better food and farming.