Unearth London's hidden edible gardens – your chance to join the Big Dig
On Saturday 21 April community gardeners from more than 40 of London's edible gardens, will welcome new visitors and show them how to grow their own food.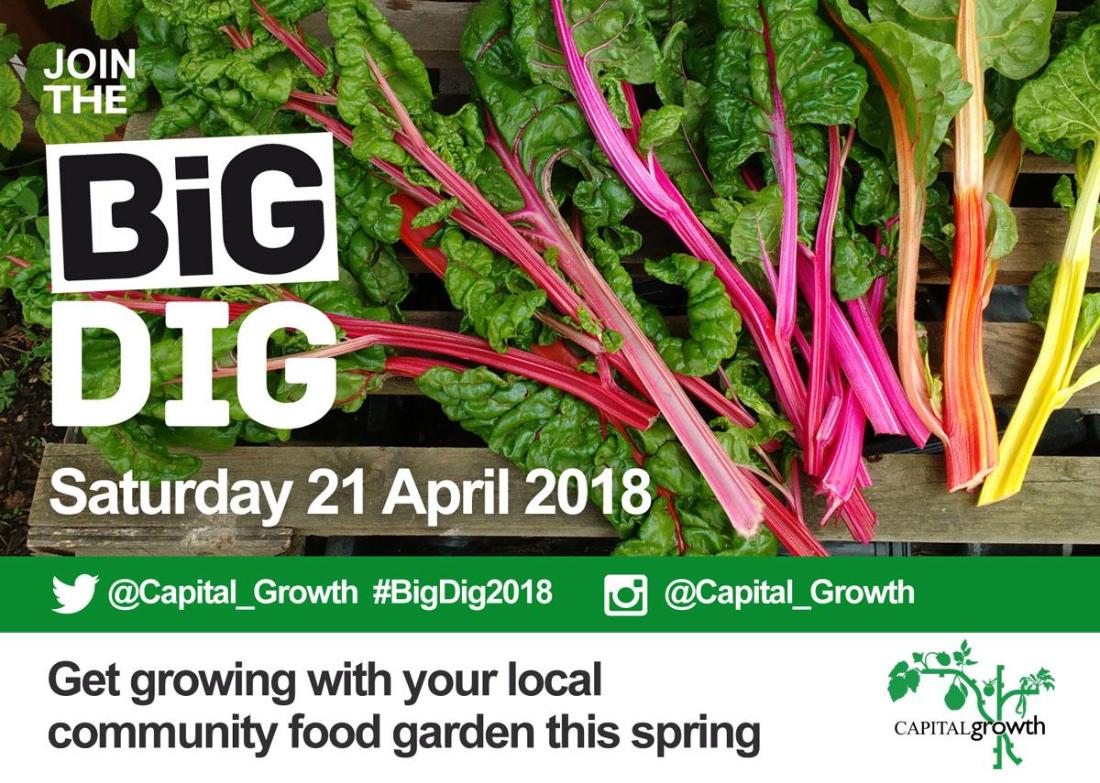 From planting seedlings to garden treasure hunts, there's a chance for everyone to get involved, meet their neighbours and enjoy the tranquillity of urban growing as part of the #BigDig2018.
Growing food is such a great way for people to get healthy and reconnect with their food," commented Claire Pritchard, the new Chair of the London Mayor's Food Board, "so I am delighted that the Big Dig continues to offer Londoners the perfect way to get stuck in to their local community garden".
The 7th annual Big Dig day is organised by Capital Growth and gardens from 20 London boroughs are taking part, many of them hidden away from the hustle of London. They can be found on rooftops, parks, schools and all can be found on Capital Growth's online map.
The Big Dig has helped thousands of people connect with their local garden and gives Londoners a chance to get active and grow food. It's also the perfect time for those running the gardens to gather people from their community and prepare for the season ahead.
"Volunteering in gardens has changed my relationship with London. It's a constant reminder of the city's diversity and that we don't have to go far to experience different lifestyles. Remembering that such beautiful tranquil spaces exist so close by helps when you're stuck on a crowded train or tired after a long day." Camilla, volunteer with The Castle Garden and London Grown.
Capital Growth gardens are found all over the city and those open on the Big Dig day stretch from North Finchley to Sydenham and Ealing to Dagenham. They include allotment sites, community gardens as well as quirkier spaces such as the infamous Skip Garden in Kings Cross, a rooftop in Battersea and the beautiful Castle Climbing Centre Garden, set in the grounds of the old Waterworks building in Hackney.
"Taking place on the same weekend as Earth Day, we are excited to be running our seventh Big Dig day to get hundreds more people growing their own food. This is one the highlights of our calendar as we know it gets Londoners growing food together, many for the first time." says Chris Speirs, Project Coordinator of Capital Growth.
Capital Growth will be running online competitions ahead of the day on social media to win books, vouchers and more. Plus everyone taking part on the day will receive a special discount on workshops in this season's urban growing training programme.
Find your closest participating garden, or register your garden to take part on our interactive map at www.bigdig.org.uk/london/
The Big Dig is a part of Capital Growth, a network of over 2,800 food growing gardens across London helping with advice to get started, finding and training volunteers and grow wildlife-friendly food.
ENDS
For more information please contact Chris Speirs at chris.speirs@sustainweb.org or 0203 5596 777 or visit www.capitalgrowth.org/bigdig/
@capital_growth #BigDig2018
Editorial Notes
Capital Growth is a network of over 2,800 food growing gardens and farms around London. Membership is free and available to anyone growing food in community projects, schools, allotments or at home. www.capitalgrowth.org
Capital Growth is part of the food and farming charity, Sustain. Capital Growth initiated the Big Dig day in London in 2012 and is supported by The Mayor of London and The City Bridge Trust.
Photos and interviews with volunteers and garden leaders are available on request.
Competition details will be found on @capital_growth
Everyone participating on the day will receive 25% off Capital Growth training, if booked by the end of April.
A map of gardens can be found here www.bigdig.org.uk/london/ and includes:
Barking and Dagenham
Gale Street Organic Gardeners' Association, Dagenham
Linkway Plantastic Prescription Gardens, Dagenham,
Barnet
Brent
Camden
Cecil Sharp House Permaculture Garden, Camden
Kings Cross Skip Garden, Kings Cross
The Regent's Park Allotment Garden, Regent's Park
Urban Growth, Camden
Croydon
Westow Park Herb & Wildlife Garden
Ealing
MindFood - Growing Wellbeing
Enfield
Broomfield Community Orchard
Bush Hill Park Community Garden
London Grown) (Queensland Avenue Gardens)
Greenwich
Cardwell School Allotment
Christchurch School Community Garden
The Maryon Park Community Food Growing Garden, Charlton
Hackney
Cordwainer Gardens, Hackney
Robin Hood Community Garden, Hackney
The Castle Climbing Centre, Green Lanes
Hammersmith and Fulham
Phoenix Farm And Learning Zone, Shepherds Bush
Haringey
Edible Landscapes London, Finsbury Park
The Meadow Orchard Project, Crouch End
ambeth
Lewisham
Albany Garden, The Albany, Deptford
Sydenham Garden Food Growing Space, De Frene Road
The Springbank Rd Community Garden, Hither Green
Wild Cat Wilderness, Catford
Merton
Phipps Bridge Community Garden
Redbridge
Audacious Veg
GROW Community Garden, Loughton
Richmond
Greenfingers, Trafalgar Infant School. Twickenham
Tower Hamlets
Cranbrook Community Food Garden, Globe Town
Waltham Forest
Bakers Arms Arches Garden, Walthamstow
Church Lane Community Garden, Leytonstone
Greenway Avenue Community Play Garden, Walthamstow
Mission Grove Garden Club and Wildlife Garden, School, Walthamstow
Wandsworth
Doddington Community Roof Garden, Battersea Park Rd
Early Years Garden, Broadwater Road
---
12/04/2018
Share
Get updates