What the hosepipe ban means for London's community gardens
London's hosepipe ban has come into effect this week but there is some hope as community gardens and allotment holders will be exempt from the ban for watering food crops.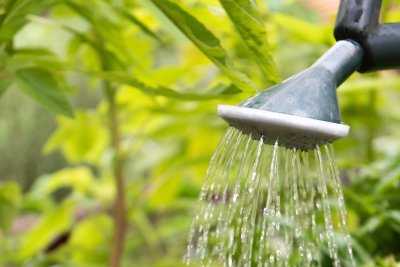 Watering at Cordwainers' Grow, Hackney. Credit: Zoe Warde-Aldam
This week, the Thames Water temporary hosepipe ban comes into effect in London and the Thames Valley area following the driest July on record in addition to record-breaking heatwaves this summer.
Londoners will be restricted from using a hosepipe to water their gardens or wash their cars, although watering via cans is permitted throughout the ban. People are being encouraged to 'use water wisely' to conserve water supplies where possible. The hope is that the ban, which could b in place for several weeks until 'prolonged and significant rainfall' will help save supplies.
So what does the ban mean for London's food growing spaces?
Sustain's food growing networks received the following response from Thames Water on 23 August, to our request to include community food gardens in the hosepipe ban exemptions list:
After listing to customers, we're working on updating the rules to permit allotment holders to water their crops (but not other plants and flowers) with a hosepipe, where no other means of watering is reasonably possible. We've recognised customer concerns about cost-of-living challenges and food wastage, along with the logistial challenges of navigating large allotment sites with watering cans, and have made these changes in response.
This exception needs to be formally included in our Legal Notice, which we'll publish in the coming days (including on our website).
We would consider this change to also apply to your case. This change would mean you could use a hose, but only for the purpose of watering food crops. Any other flowers and plants should only be watered using a watering can filled directly from a mains tap, with no involvement of a hosepipe.
In the case of any ponds that contain fish and other aquatic animals, these can also be topped up using a hose.
Restrictions don't apply to businesses and farmers so London's urban farms and food growing spaces that operate on a commercial or semi-commercial basis are also exempt from the ban. So too are plants grown in polytunnes or greenhouses.
Thames Water defines "Hosepipe to include anything designed, adapted or used to serve the same purpose as a hosepipe. The prohibitions apply whether or not any device is attached to the hosepipe, such as a sprinkler, dripper hose, automatic irrigation systems or similar devices for example." They make a very specific allowance relating to some irrigation systems: "Watering a garden and watering plants on domestic or other non-commercial premises using an approved drip or trickle irrigation watering system, fitted with a pressure reducing valve and a timer, that are not handheld, that place water drip by drip directly onto the soil surface or beneath the soil surface without any surface run off or dispersion of water through the air using a jet or mist."
UK water companies making allowances for community gardens
It was not at first clear where community gardens fell in various hosepipe bans and exemptions around the country, as they do not fall within categories of 'domestic', 'commercial', or 'allotment' which were used in legal notices. Capital Growth's wider sister food growing network, Good to Grow, has been in touch with several water companies around the country to seek clarity.
Many companies explicitly made allowances for those watering plants kept for commercial uses: we made the argument that whilst community gardens may not grow plants of sale or profit, most grow for public good and for the financial benefit of members of the local community and address issues of food insecurity. For this reason, we say is vital to explicitly exempt community gardens from the hosepipe ban to ensure these spaces continue to be a lifeline for the people who rely on their food production; not to mention safeguarding the health and welfare of the fish and other creatures living in these spaces through watering in order to maintain and look after ponds as well as other biodiversity features in these spaces.
Bella Driessen who represents Sustain's national food growing network, Good to Grow, has contacted water companies in other parts of the country, she has received the following updates:
South West Water: "There is an exemption for hose pipe use where any food crop is involved."
South East Water: "The ban in place restricts watering a garden using a hosepipe, but provides that "a garden is not" (among other things) "a temporary garden or flower display (i.e. on show to the public)." If the community garden is for the show of the public, this would come under the exemption.
Southern Water: "Southern water will give an exception from the Hosepipe restriction (Temporary Usage Ban) for watering plants on a domestic or other non-commercial premises using a hosepipe as you are to water food crops."
Yorkshire Water: we have received assurance by word of mouth that community gardens are exempt, and should receive word in writing in the coming days.
We are pleased to see that all water companies who have responded are making allowances for community gardens. We will continue to update as we hear news from other companies. They request that we all continue to be mindful when using a hosepipe.
What London's urban growers can do
Chris Murphy of London's Capital Growth is reassured that community gardens and allotments can continue to water food crops through the ban, however he says: 'We cannot deny the devastating effects of this summer's drought on the food our network is growing, our soil health and the biodiversity of these essential urban growing spaces'. Chris, who manages the network's flagship allotment gardens at the Royal Parks, suggests a few water-saving tips and measures we should all be taking, such as:
Harvesting rainwater from a water butt connected to your house or shed - an excellent renewable water source
Using grey water from baths and cooking pots - ensure it's cooled down first (this is only recommended for short term use unless filtered as can lead to a build up of salts or sopas in your soil)
Mulching beds - leaf mould or even cardboard can help retain moisture within the soil
Watering in the morning or evening helps reduce evaporation
Using water cans can direct water more accurately to roots of plants
Drip irrigation systems, despite being connected to a hosepipe, can still be used provided they're attached to a timer. Not a cheap option but could be a good investment for the future
Terracota pots buried in the soil (traditionally used in ancient South American cultures, known by the Spanish name olla/s) can provide subsurface irrigation deep at root level, over a long period cutting down the frequency you need to water
Support London's community gardens for this year's harvest
It's clear to see that this year brings us a particularly difficult harvest and community food growing spaces need our collective support like never before. Whether you're a seasoned gardener or complete newbie to food growing, this year's Urban Harvest festival running 11-18 September is a perfect opportunity to visit a garden near you or have your garden take part. Join the celebrations as gardens across Capital Growth's network will be opening up their gates and hosting activities throughout the week.
Find a garden near you or sign your garden up to Urban Harvest
---
24/08/2022
Share
Get updates