Urban growers get business savvy
On Friday 25 November over 50 people gathered for Capital Growth's second Roots to Work conference, to help kick start their food growing careers and enterprises, with three new enterprises receiving funding on the day.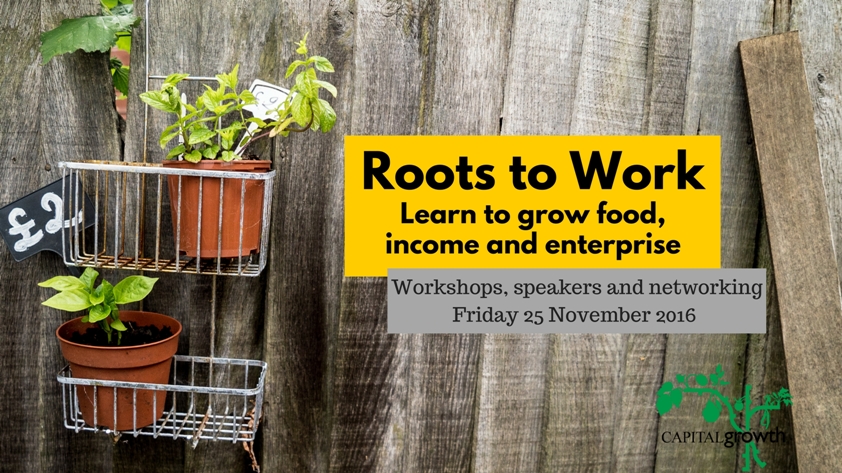 Urban food growers from London and beyond took part in the annual event to hear from an urban growers career panel, learn from workshops, with a chance to pitch for funds for their enterprise ideas.
The conference was organised by Capital Growth, London's largest food growing network, with the aim of helping individuals and community projects gain the skills and confidence to become more entrepreneurial and financial self-sustaining.
The day opened with a career panel facilitated by Capital Growth Project Officer Maddie Guerlain, featuring speakers including Sophie Verhagen, Head Grower at Growing Communities, Nemone Mercer of Core Landscapes, Nat Mady, co-founder of Hackney Herbal, and Alok Shah, co-founder of new salad scheme Waltham Grow. Participants shared stories of how they had progressed from volunteer to paid work, created new social enterprises, and developed their freelance careers to reach a wider audience and make a sustainable living.
One of the highlights from the day was the 'Pitch In / Pitch Off' where three small food enterprises had two minutes to pitch their idea to the crowd, who then voted for their favourite and pitched in a few quid themselves. WalthamGrow took first place, winning a £150 cash prize to help install a new irrigation system for their salad start-up scheme. Runner up was Hackney Herbal, who is working with local communities to grow tea in the borough, and third place went to Waste Not Tapendade, a new small food venture that will make tapenades and spreads from garden produce that normally ends up in the compost, such as pumpkin and carrots leaves.
Attendees took part in workshops designed to help build the skills of small food growing enterprises. Kate Collyns, founder of Grown Green at Hartley Farm and author of Gardening for Profit, led two groups through the nitty gritty of selling produce that you grow, including health and safety considerations, pricing and legalities. Sergio Olivares' workshop, from the Greenwich Co-operative Development Agency, spent the morning explaining the pros and cons of different legal structures. In the afternoon Adrienne Attorp, CEO of Cultivate London, led activities and discussion around how community projects can diversify their income streams beyond selling produce in order to be more financially sustainable.
Read more about Growing Enterprise, a Capital Growth initiative to support urban food growers, and visit their Roots to Work webpage for job and training vacancies in the urban growing sector.
---
02/12/2016
Share
Get updates