Capital Growth praised for thriving food growers network
Unlocking Networks highlights the inner workings of London's food growing network, and its success in nuturing members.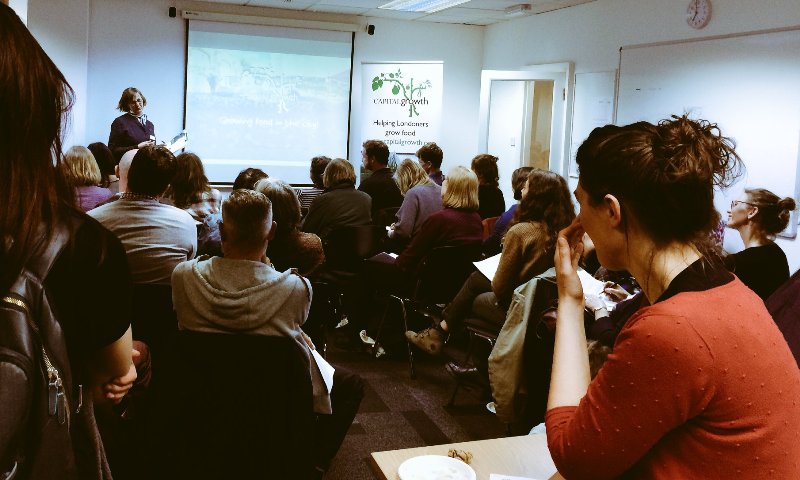 On Wednesday 15 March, 50 urban food growers from allotments, community gardens, city farms and schools gathered for Capital Growth's spring network do. The event was subsequently featured in a blog post by Unlocking Networks, a hub for social movement-makers, community managers and group leaders to unlock the power of peer networks, highlighting three key ways Capital Growth exemplifies 'nurturing your network'.
The evening kicked off with fresh vegetarian food from local good food caterers Norman Loves, followed by a welcome from Capital Growth's Maddie Guerlain, encouraging gardens to take part in the upcoming Big Dig Day on 22 April, and check out the new spring training calendar. Attendees heard from the new London Grows Community Garden hubs who are working with Capital Growth to run events and training and then took part in workshops to learn about identifying wildlife in urban gardens, recruiting and managing volunteers oradvanced food growing. The night finished off with community announcements from network members.
Unlocking Networks described the coordination of the event as one that 'planned for serendipity'. As Isabelle Coin wrote about the evening, "The Capital Growth team had clearly put a lot of effort into planning out different spaces and times for people to interact 'organically' and others for structured skill-sharing and updates. The result was a great mix of stimulating discussion, listening and reflection time." Coin also praised Capital Growth for giving opportunities throughout the night for the voice of network members to come through via workshops, community announcements and the London Grows hubs.
Read more about Capital Growth, London's food growing network.
---
20/03/2017
Share
Get updates