London's Urban Harvest 2022 competition winners announced
A whopping 22 London food gardens took part in our 13th annual Urban Harvest this year and they embraced the theme of climate- and community-friendly food growing with their activities. Have a look at who the winners and runners-up of this year's competition categories are.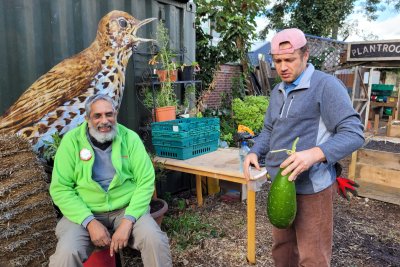 Guessing the weight of the heaviest harvested gourd recording during Urban Harvest. Credit: Loughborough Farm
Every year, we run a few competitions to encourage gardens to take part in Urban Harvest and capture all the action from their wonderful harvest celebrations. This year's competition categories were:
Best 'Climate-friendly Community Meal'

Best 'Harvest Action Shot'

Heaviest pumpkin or squash recorded using our Harvest-ometer
Firstly, we want to give huge thanks to everyone who took part in this year's competition. It was great to see so many amazing photos!
Our three winning gardens and one runner-up shared some great shots of their gardens in action, with pictures of their plant sales, community members getting stuck into garden tasks, kids playing with chickens and much more.
Winners
Best Climate-friendly Community Meal – Garden of Earthly Delights E9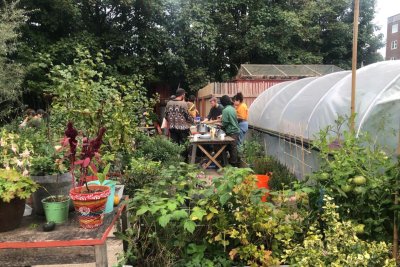 To celebrate their new ecotherapy course, A Gardened Mind, the Garden of Earthly Delights hosted a Community Meal using food grown in the garden along with surplus food sourced by National Food Service London. On Sunday 18 September, the garden was open to anyone from the local community for a friendly afternoon with chill vibes, good food, and a cosy bonfire.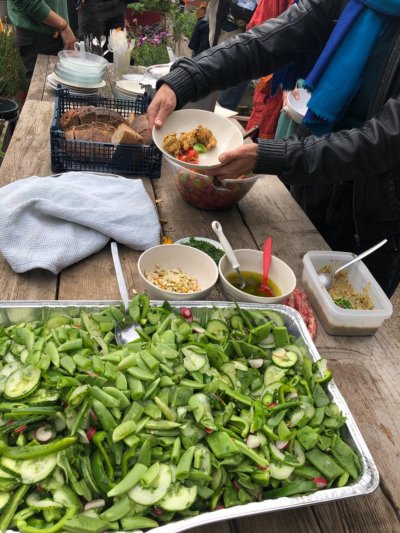 Feedback from an attendee of the community meal and open day included:
"It's always such a joy to visit GED, the atmosphere is really welcoming and the food is always delicious! Thank you for an amazing community meal to celebrate the harvest." Fi, Capital Growth Coordinator
Best 'Harvest Action Shot' – Bernie Spain Gardens SE1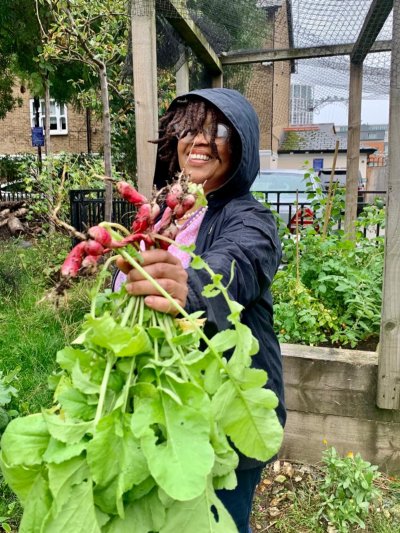 Bernie Spain Gardens, located within the Coin Street Neighbourhood Centre of near Waterloo. To celebrate Urban Harvest, they hosted a garden event to give anyone and everyone the chance to look around, hear about what they are growing and join in with some watering. Of course, there were some refreshments made available and activities for the visitors to enjoy.
The Community Participation Manager commented:
"Even in the rain our gardeners enjoyed harvesting sweet tomatoes and peppery radishes from our community beds and adding them to the harvest-o-meter as part of our Urban Harvest event."
Runner up – Growhampton SW15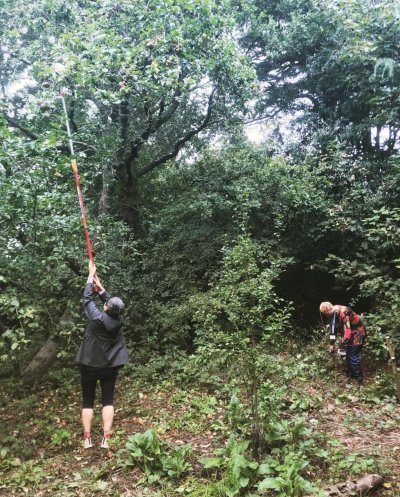 Edible Campus Grower, Ellie Paganini, at Growhampton commented:
"10 kg of apples harvested in ye Olde Orchard by our fantastic volunteers. We had a great time plucking apples from the trees that day. Now to think what to do with them… Chutney? Juice? Apple crisps?"
Heaviest pumpkin or squash – Loughborough Farm SW9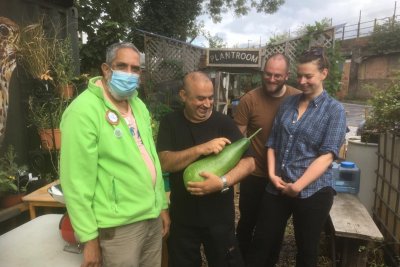 Loughborough Farm's coordinator, Emily Myers, commented:
"Mohammed (holding the gourd) - one of our volunteers who helped sow the seeds as part of a Cultural Foods project with Myatt's Fields Park Project. We also sowed and then took back to the Farm - Jamaican Sorrel, Acorn Squash, Cho-cho, Black Eyed Beans, Yard Beans."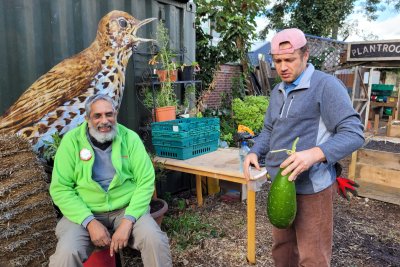 "It was one of our bottle gourds, we had a guess the weight of it competition with our volunteers (Ramesh on the left and Joas on the right in the photo) and the winner got to take it home. Since then, we've harvested a few - and one is still on the vine getting huge - probably at least twice the weight of others now!"
Find out more about Urban Harvest
Thank you to all the 22 gardens that took part in Urban Harvest 2022, and again to everyone who submitted entries to our competitions. We can't wait to see you all next year. In the meantime, enjoy the Autumn season ahead!
---
17/10/2022
Share
Get updates