The Urban Harvest
Saturday 16 September


Get a taste of London's edible gardens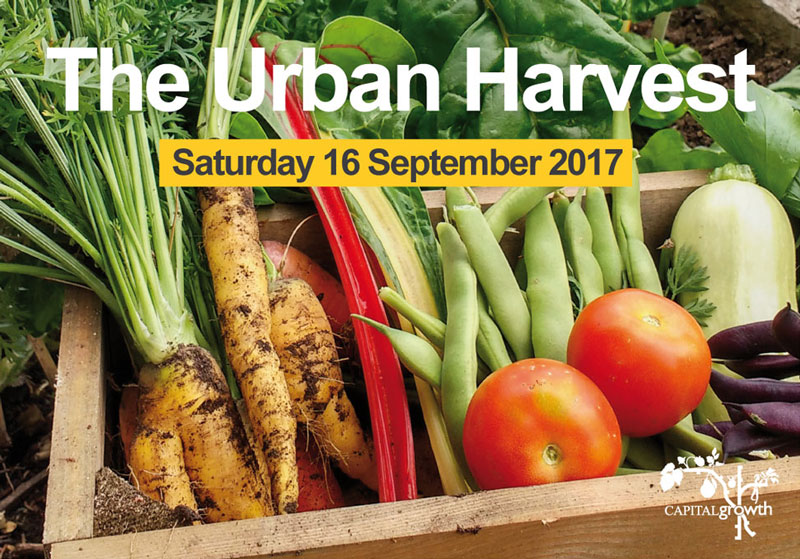 Community gardens across the capital will be open on Saturday 16 September to welcome in visitors and volunteers to take part in garden activities and share the harvest as a community.
Sign up your garden to take part
It's free for any Capital Growth garden to take part in The Urban Harvest. We welcome school and community spaces to join the festivities by offering volunteer activities, workshops, tours, talks, community meals or anything else that you feel inspired to put on!
Tell us what's happening in the garden and at what time on Saturday 16 September
Your garden's information will be added to the map below
We'll post you a pack of materials to help promote, prepare and run the day
Bonus: Apply to receive match funds for enterprise activities on the day!
To inspire and encourage gardens, we're offering up to £50 match funding for garden products you sell during The Urban Harvest on 16 Sept. Fresh fruit and vegetables, salad bags, herb bundles, garden preserves, prepared foods with harvested produce - The Urban Harvest can be a great opportunity to raise some funds for your garden! Read more about the match fund and download an application to apply.
Find an Urban Harvest near you!
Search the map below to see gardens taking part in The Urban Harvest and find out what's going on in your neighbourhood. From harvest parties to hands-on workshops, an annual vegetable show to volunteering, there is a wide range of ways to celebrate in London's edible gardens and enjoy the city's harvest.
This event is part of Urban Food Fortnight, a showcase of all the fabulous food being grown, made, cooked and saved on our doorstep.