Roots to Work
Connecting people with jobs, training and opportunities in the sustainable food sector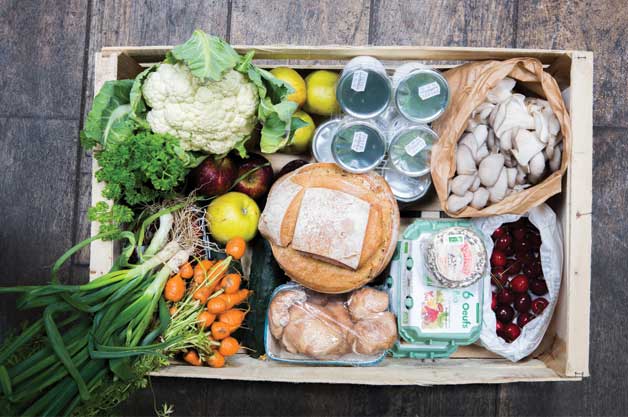 Current vacancies
Please mention Roots to Work when applying for these jobs.
Core Landscapes is hiring an experienced Horticultural Trainer to deliver weekly Thursday sessions from Sept - Nov for people with lived experience of mental health issues. 2.5hrs per week, Thursdays 1.00pm – 3.30pm, (actual class length- 1.5hrs) for 9 weeks over a 10 week period, £50 per session / £20 per hour (to incl prep time). For more info please contact Nemone Mercer. No deadline - apply ASAP!

Stepney City Farm is hiring a Cafe Team Leader and Chef to head up the farm's café and shop, preparing food, planning menus using seasonal and local produce, and managing the other staff and volunteers. £22,000 p.a. for 40 hours/week. No deadline - apply ASAP.

Walworth Garden is hiring a Trainee/Gardener/Driver to join their team of gardeners. Full time for £9.15/hour (London Living Wage). No deadline - apply ASAP.

Hodmedod's are looking for friendly faces to work on their Borough market stall throughout September. Paid at London Living Wage. To apply please forward a CV and short note about why you're interested and your availability in September to josiah@hodmedods.co.uk. No deadline - apply ASAP.

Granville Community Kitchen is hiring a Community Food Grower to run weekly gardens sessions twice a week. £15/hour for Wednesdays and Fridays, 11am-3pm (8 hours total). Deadline 22 September.

Cultivate London is hiring a General Manager to help run the organisation. £30,000 pro rata for 3 days/week. No deadline - apply ASAP.

Forest Farm Peace Garden is hiring a Project Manager to oversee and lead the development and day to day running of FFPG. £24,500 pro rata for 4 days/week (possibility of added hours). Deadline 25 September.

Food Ethics Council is hiring a Communications Officer to join a small but dynamic team in an organisation that has been at the forefront of thinking on ethical concerns in food and farming since 1998. £25,000 - £27,000 pro rata for 18.75 hours per week (0.5 FTE). Deadline 26 September.

Trees for Cities is hiring a Grants Fundraiser to raise essential funds to plant urban woodlands and neighbourhood trees in parks, schools, streets and estates across London. £22,000-£25,000 p.a. Deadline 27 September.


The Rushey Green Time Bank is hiring a Project Assistant for The Wild Cat Wilderness to help coordinate a programme of activities and to engage residents in the Wild Cat Wilderness in conjunction with working parties of local people. Two half days per week (8 hours total) for £7,114 p.a. Deadline 4 October.

Food Ethics Council is hiring a Project Lead to set up and manage a new animal welfare metrics project. Estimated 100 days over a 12-month period, at £34,000-£37,000 pro rata. Deadline 5 October.

Farms Not Factories are hiring a Campaigns & Outreach Manager to work alongside the small team running Farms Not Factories. Full time for £22,000 - £24,000 pa depending on experience. Deadline 16 October.

The Slow Bread Company is hiring a full time baker for their bakery in Hammersmith. Read more about their work and send CV and covering letter to sales@slowbreadcompany.co.uk No deadline - apply ASAP!

The Centre for Better Health is hiring a full time baker for their bakery in Haggerston. Full time for £17,745 p.a. (London Living Wage) No deadline - apply ASAP!


Global Generation is hiring Sessional Community and Education Gardeners to ensure the smooth​ running of gardening sessions and workshops through managing and leading groups of various ages in practical gardening, craft and nature related activities. £10/hour. No deadline - apply ASAP!
Take our short survey about work in the good food sector
Email Maddie@sustainweb.org to have your job posted here or to join the Growing Enterprise email list
Organisations and publications
Join the Capital Growth email list
Hear about events, training and news from London's largest food growing network.
Menu